Overview of Texas Free Range Whitetail Hunt - Cotulla
This is it!  Pure South Texas free range whitetail hunt on high rack vehicles, cowboy hunting at its best!  Over 22,000 Texas FREE RANGE whitetail hunt ACRES in the heart of the Golden Triangle of South Texas.  The Texas record books are full of Boone & Crockett bucks from this area.  A Texas free range whitetail hunt is rare as most of the prime land in Texas has been fenced.
There is no hunting over feeders sitting in a box blind on this property.  You will be hunting from high rack truck and rattling during the rut.  Hunts are one fixed price, no by the inch pricing!  You are hunting big buck country and if he is mature, you can hunt him! Hunts include one mature whitetail buck, doe, hog, and unlimited coyotes!  If you are looking for old school authentic no fluff hunting in the most prime area of Texas, look no further.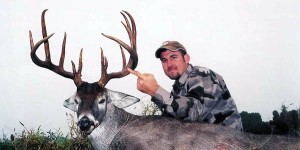 While the accommodations are classic Texas style, the food is good home-cooking and the lodge is perfect for no fuss hunters that are all about the hunting experience.
The owner of Antlers & Anglers Worldwide grew up in Dallas, Texas.  He has hunted all over Texas for decades.  When Kevin hunted this property he immediately recognized that this was a unique opportunity in the golden triangle.  In a world of "by the inch" pricing to have an opportunity to hunt a property like this at this at a reasonable fixed price point is highly unusual.
Now, we do want you to know that there is a deer around every bush but the key is that big deer roam this area of Texas.
A Texas free range whitetail hunt with the potential to shoot the "big ones" is rare and becoming more rare each year that passes.
Hunting
Lodging
Length of Stay / Itinerary
Travel Details & Location
Internet & Communications
Pricing
Trip Insurance & Cancellation Info