Overview of South Dakota Fishing - Pierre
Find Canadian-style fishing, minus the international travel, on Lake Oahe in South Dakota!
This luxury lodge will allow you to fish for trophy walleye, smallmouth bass, and northern pike. This is some of the best fishing in the United States with well-trained guides.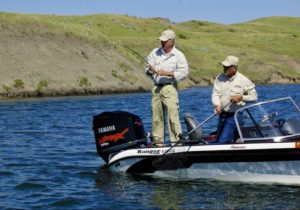 Each day your guide will take you out on fully equipped boats to explore the lake and participate in a full day of action-packed fishing. You will be using jigs, minnows, and flies to try to hit your limit of fish. The fish fight hard, so be ready to go to battle!
Your guide will have a well-packed, delicious lunch for your group as well as snacks and drinks. There is no need to cut your day short by coming back to the lodge. With boat ramps only 10-25 minutes away, you are a short drive away from the lake. The guides will be able to pick the best ramps to use based on where the fish have been biting.
When your day of fighting the fish is done, you will come back to the luxury lodge. You will enjoy the delicious food, relaxing seating areas, and competitive games. In addition to this, the cigar & cognac bar, game room, and fireplaces are calling your name!
Fishing
Lodging
Length of Stay / Itinerary
Travel Details & Location
Other Activities
Internet & Communications
Pricing
Trip Insurance & Cancellation Info