Overview of Alaska Fly Fishing Lodge - Katmai
There is trust and comfort in longevity!  This Alaska fly fishing lodge was established in 1950 as the first fly out fishing lodge in Alaska.  Imagine before any other fishing lodges existed in Alaska, flying around the heart of the Katmai National Park and the greater Bristol Bay watershed in search of the perfect spot for a fishing lodge!   Step back in time to an authentic Alaska fly fishing lodge with a storied history.  At dinner it is not uncommon to sit across the table from other guests telling stories from their decades of fishing here.
From June to October, this fishery pleases the most discerning angler.  The region supports the largest run of sockeye salmon in the world!  King Salmon, chum salmon, pinks and silver salmon are found in great abundance.  Thanks to the volume of salmon, this area boasts the one of the world's finest population of rainbow trout.  The river just around the corner from the lodge is known throughout Alaska for it's crazy numbers of healthy rainbow trout.  Just a float plane flight away, other game fish like northern pike, grayling, dolly varden, arctic char and lake trout await your the presentation of your fly.  Numerous rivers and streams in the Bristol Bay region are within 100 miles of the lodge.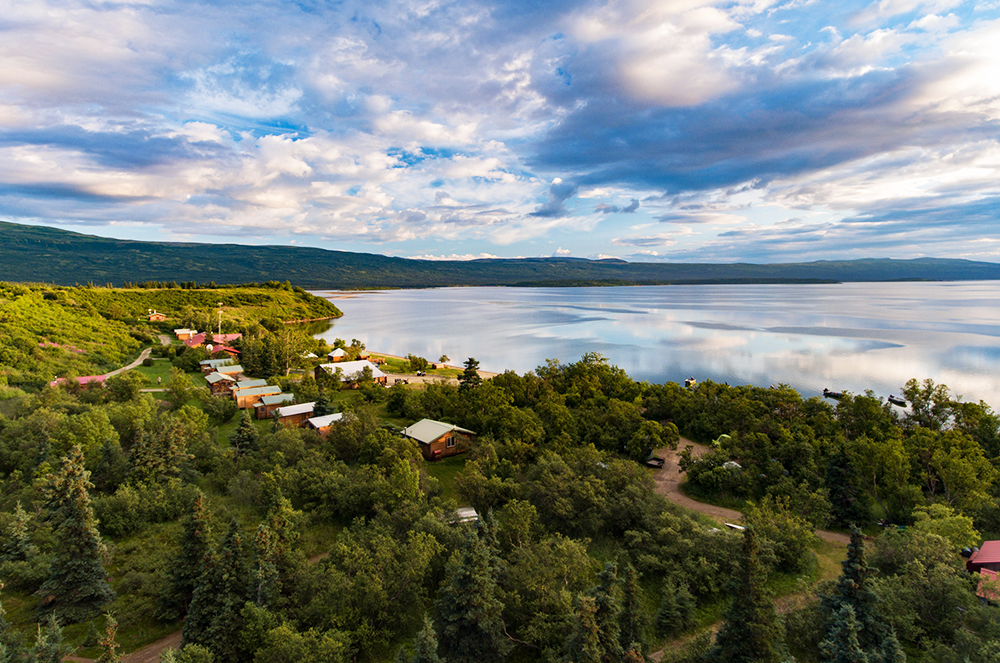 The location, inside the Katmai National Park nestled next to the Kulik River known for it's Rainbow Trout fishery, makes this Alaska fly fishing lodge unique.  Fishing in the pristine Bristol Bay region ecosystem is the envy of the world.  It offers an amazing network of streams, rivers, lakes, wetlands and tundra ecosystems.  An unbelievable 50 native species inhabit this ecosystem.  Because of the abundance of resources, you will find hundreds of species of birds and over 40 land based mammals.
In 2019, guest cabins were updated with all the amenities that a discerning traveler has come to expect.  In the evenings, you will find guests and guides enjoying a drink around the bar, on the porch overlooking the lake or settled in the comfortable chairs around the large stone fireplace.
Beginning in July, bears become a part of your fishing experience.  The abundance of salmon captures their attention and adds to the adventure.  The Katmai National Park boasts some of the finest bear viewing on the plant and is only a 20 minute float plane away.  Some choose to fish this amazing river while others view the bears from the viewing decks built for the public.
Float plane fly-outs are available daily as well as fishing the resident Kulik River.
Fishing
Lodging
Length of Stay / Itinerary
Travel Details & Location
Other Activities
Internet & Communications
Pricing