Overview of New Zealand Luxury Fishing
Close your eyes and imagine fishing in some of the most pristine waters in the world with breathtaking views of mountains, forests, and open plains surrounding you. You've just imagined fishing in the New Zealand wilderness. The fast-flowing, cold waters of the Southern Alps have created the ideal living conditions for rainbow and brown trout that are strong and fight hard.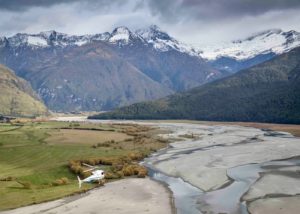 During your fully guided adventure, you will have access to prime fishing rivers throughout the Southern Alps along with access to fishing on conservation lands such as national parks and world heritage areas. The crystal-clear waters make spot and stalk fishing exciting as you can see the fish you are going after… but they can also see you. Anglers may find themselves using dry fly, streamer, and nymph techniques all in the same stretch of water.
Included in your day of fishing are a private helicopter charter, a professional guide, and a gourmet picnic lunch. In your few breathing moments during your action-packed day, you will dine in fine picnic style while looking out over the incredible terrain you find yourself in. Bask in the glory of the Southern Alps while you listen to the river gargle over the rocks.
Fishing
Lodging
Length of Stay / Itinerary
Travel Details & Location
Other Activities
Internet & Communications
Pricing
Trip Insurance & Cancellation Info