Overview of Argentina Luxury Red Stag Hunting - La Pampa
85,000 acres of free-range, prime habitat await you in Argentina. This property has an abundance of trophy red stag, blackbuck, water buffalo, wild boar, wild goats, wild rams, and multi-horned ram. Due to the cultivation of high-protein grasses and the natural, mineral-rich springs found on this land, their species have heavier antlers and horns than those found at other lodges in the La Pampa area. This property is incredibly diverse in its natural habitat. It ranges from grass-covered sand dunes to densebrush country similar to the Texas Hill Country which provides ideal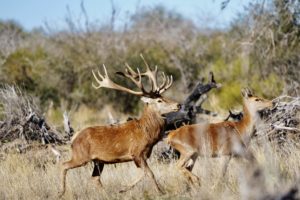 habitat for each species.
If you are interested in high fence hunting as well, there is a 5,000-acre area that has larger red stag, axis, fallow, mouflon, wild goats, wild rams, and multi-horned rams. This is also an exciting and adventurous hunting experience as this is located in the brush country part of the ranch.
Your luxury lodge here is focused on providing you with an exclusive and authentic Argentinian experience. The living room, bar, and dining area are open and comfortable so your group can enjoy your after-hunt downtime together sharing stories and giving each other grief around the fire. The 5 spacious bedrooms overlook the property with beautiful views of the distant watering hole. This eco-lodge type space is luxurious enough to provide you with everything you need to be very well taken care of, but comfortable enough that you never feel like you can't put your feet up and relax.
Our Experience at This Lodge
Hunting
Lodging
Length of Stay / Itinerary
Travel Details & Location
Other Activities
Internet & Communications
Pricing
Trip Insurance & Cancellation Info