Overview of Alaska Fly-out Fishing Lodge
This well established lodge is easily considered to be the finest Alaska fly-out fishing lodge with daily float plane fly out fishing to remote areas. Located in the heart of the Bristol Bay region of southwest Alaska, they are within easy flying distance to the finest waters in the state. Depending on the week they target five species of Pacific Salmon, Rainbow Trout, Arctic Char, Dolly Varden, Arctic Grayling, Lake Trout and Northern Pike and most any combination thereof.
Why do we love this Alaska Fly-out Fishing Lodge so much?  Besides the amazing fishing, it is the people that make this the Alaska fishing experience you will want to enjoy year after year.  It is not uncommon to sit across the table with clients that have been coming to this lodge for three decades!  It is your turn to make this your annual fishing experience.
Beside exceptional service and people, unique to this lodge is there offering of Lake Hop fishing!  An exciting and adventurous day of landing on remote sometimes unfished lakes.  Your group, guide and your pilot will land on a remote gorgeous lake where you will try your hand.  Enjoy the exhilaration as the fish begin to bite with aggression as they have not been exposed at all or sometimes seldom to the sight of the fly or lure.  Stay until they decide they are interested no more and take off to land on the next lake and so on for the entire day!  It doesn't get any better than this.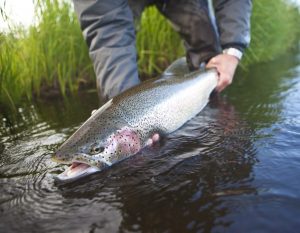 In June fly out to the Nushagak River for the famed King Salmon run.  In July enjoy the variety of salmon and other species on numerous rivers.  August and September present the Silver Salmon run and big fat healthy Rainbow Trout.  Each day experience a new exciting fishing opportunity.
If you and your group are interested in a first class luxury Alaska fly fishing lodge experience, without comprising great fishing to find luxury, this may well be your kind of place.
They are committed to providing the best service possible with the ultimate goal being to have fun while catching lots of fish!
Fishing
This lodge is a premium fishing lodge located 350 miles southwest of Anchorage, Alaska, in the Bristol Bay Drainage. Bristol Bay-area rivers and lakes, like the world famous Nushagak, are renowned for their runs of wild Pacific salmon and thriving resident populations of rainbow trout, arctic char, arctic grayling, northern pike, lake trout and dolly varden.
The waters surrounding the lodge are a fishing paradise. The diversity is incredible, the productivity exceptional, and experience is singular and special in every way.  The lodge packages, for example, feature daily fly-out fishing excursions that deliver guests to the best fishing in the area. That means one day you can be fly fishing for trophy rainbows, the next day drift bait for monster King salmon, and a day later be on the hottest pike bite you have ever experienced.
Add to that all the other possibilities. They are located right on the shoreline of Lake Aleknagik just a short drive and a boat ride from Dillingham. The lake and some of its tributaries boast fabulous fishing for char and rainbows while, some of the more remote waters they fish, are home to gigantic grayling and big rainbows that by any standard are genuine trophies.
How much fish and what kind can I take home?
Each client is allowed one 50 pound box of Salmon only.  They practice a strict catch and release policy on all resident species (Rainbow Trout, Dolly Varden, Arctic Char, Grayling, Pike and Lake Trout).
For King Salmon, the state regulates the number of Kings you can harvest.
What is the season?
The lodge is only open during prime fishing months and the prime weather months.  Any time from June-September is excellent it just depends on your activity desires.  If you are specially seeking a certain species of fish then sometimes are better than others. Look at the fish and animal viewing chart below:
| | | | | |
| --- | --- | --- | --- | --- |
| Species | June | July | August | September |
| King Salmon | X | X | | |
| Silver Salmon | | | X | X |
| Chum Salmon | X | X | | |
| Sockeye Salmon | X | X | | |
| Pink Salmon | | X | X | |
| Rainbow Trout | X | X | X | X |
| Lake Trout | X | | | X |
| Dolly Varden | | X | X | X |
| Arctic Char | X | | X | X |
| Arctic Grayling | | X | X | X |
| Northern Pike | X | X | | |
| Bear Viewing | X | X | X | |
| | | | | |
Lodging
Easy access, deluxe facilities, great people and unsurpassed trophy fishing make this classic Alaska fly out lodge experience one of the finest available.  Sauna, hot tub, sumptuous dining, comfortable lounge and recreation area are added features of the lodge.  A large deck surrounding the facility is just steps from the dock, float planes and boats.  Large bay windows frame views of Lake Aleknagik and the beautiful mountains beyond.  This is a rugged immense land of startling beauty – a great place to just step out of every day pressures and relax.  At the end of each day each guest retires to their own private room!
The lodge offers 20 guest rooms and can accommodate 20 guest each with a private guest room.  They are one of the only lodges in Alaska where a private room is standard.
Meals:
The chef will prepare all your meals.  Breakfast is a hot buffet or help yourself cereal and fruit bar.  Lunch will be served streamside, and depending on the locations and nature of fly-out, will either be cooked by your guide or will consist of sandwiches etc.  Appetizers at 6:00 pm upon your return.  Dinner is served family style consisting of wonderful homemade soups, salads, fresh breads, desserts and gourmet entrees.
The lodge serves wine with meals and hosts an open bar before and after dinner.  They have a variety of beers and liquors, however we recommend that if you have a favorite liquor you bring some along.  Remember they are in the bush, and once you get there it may not be possible to get those "extras" that you may have forgotten.
Length of Stay / Itinerary
Friday Day 1:  Arrive in Dillingham, Alaska and the lodge  provides van transportation from the
Dillingham (DLG) airport. Approx 20 minutes from Dillingham to
Lake Aleknagik by van And then approx 10 minutes in a covered boat
Saturday – Thursday:  You and your guide will decide each evening what the next day will hold.  It is your choice but is weather dependent of course.
Friday: Begin your return trip home
7 Nights stay:
Friday:  Arrive in Dillingham, AK via Anchorage
Saturday – Thursday:  You and your guide will decide each evening what the next day will hold.  It is your choice but is weather dependent of course.
Friday: Begin your return trip home via the lodge charter flight to Anchorage.
Shortened itineraries are possible for groups.
Daily Schedule:
7:00 am full sit down breakfast
7:30-8:30 am depart for a full day of guided activities
5:00-6:00 pm return to lodge
6:00-7:00 pm appetizers are served and activities are scheduled for the next day
7:00 pm Alaska gourmet dinner is served
After dinner guides sit down with guests and talk about the next days activity
Travel Details & Location
Friday:  Arrive in Anchorage, Alaska.  Because of flight schedules, most guests arrive in Anchorage on Thursday and overnight at a hotel and then fly to the lodge the next morning via the lodge's private air charter on Katmai Air's two Pilatus PC-12's ( direct to Dillingham.  On arrival in Dillingham, you will be met by the lodge van's to transfer tot eh boat dock for your 15 minute boat ride to the lodge.
Friday: Begin your return trip home via the lodge charter flight to Anchorage.  Most flights depart from Anchorage in the evenings so you should be able to continue your flights home.
Should you wish to fly commercial and not take advantage of the included charter flight to/from Anchorage to Dillingham the lodge will meet you at the Dillingham airport for your transfer to the lodge.
The lodge is located in the Bristol Bay region near Dillingham, Alaska.
Other Activities
Sometimes guests just spend the day flying the area just for the spectacular views and exciting wildlife.  The most popular flight seeing trip is known as the "Lake-Hop".  Just like the title implies, you will fly from lake to lake, stopping to explore the beaches, fish some of the inlets and even venture into an ice cave.  Bear viewing is also very exciting.  As for the lodge, enjoy the spa, sauna or hot tub or a good book on the deck.
Book these flight seeing excursions ahead of time at no additional charge:
Katmai National Park – Brooks Falls (view bears feeding on salmon in falls)
Katmai National Park – Valley of 10,000 smokes
Caribou/Moose viewing
Walrus viewing
Lake Hop
Spa:
The lodge offers a highly qualified trained "bodyworker" with a degree from message therapy school.  Choose from classic 30, 60, and 90 minute massages, relaxation massages, Sports/Restorative, Salt/Sugar scrub add ons, hot stone massages, and more.  A wood-fired sauna and hot tub are also available
Internet & Communications
Cell phones DO NOT WORK once you are in Dillingham and at the lodge.
For your convenience the lodge provides a telephone for use in the Game Room – major credit cards/calling cards are accepted.
Internet connection is a satellite and can be a bit temperamental and slow. There is a computer for guest use and there is Wi-Fi connection throughout the lodge.
The system will not allow major downloads such as videos or movies. Standard emailing is fine.
Community Service
Make A difference in the native community:
Experience the native way of life. Bristol Bay is  one of the few places where the Natives still subsist off the land.   Visit a local set net camp,visit with an elder or spend time with a local artist. Bristol Bay has the most prolific run of wild salmon in the world.    You will come to understand the importance of the salmon to the  Bristol Bay  native population
Pricing
Pricing: Subject to change – call for updated rates
2024 Price:
$14,999  per person per week with private room accommodations (Friday to Friday)



Trip Insurance & Cancellation Info
"Trip insurance is highly recommended to protect your investment on this trip. We will assist you with trip insurance upon booking. See links at the bottom of this page for the two providers we suggest for our clients.
Antlers & Anglers Worldwide, LLC confirmation and refund policy:
If your trip is more than 90 days out from date of departure, a 50% non-refundable deposit confirms your reservation and must be received within 10 days of booking to confirm your dates. All trips must be paid in full at least 90 days prior to the departure date. If your trip date is within 90 days, FULL payment for the trip is required. All payments to Antlers & Anglers Worldwide, LLC are non-refundable. Should you need to reschedule or cancel your trip, we will do everything in our power to assist you in finding a suitable substitute or transferring your dates per the lodge/providers/government requirements. Trip insurance protects your investment!"