Overview of South Dakota Luxury Pheasant Lodge - Gettysburg
Since 1993, this owner operated luxury pheasant lodge has exceeded expectations…. Welcome to a place where pheasants abound, camaraderie flows, and one mouth-watering meal after another is served and savored.  The thrill of the hunt and a deep appreciation for the executives, family and friends with whom you share it are just the beginning to your stay.
They serve those who seek the finest South Dakota pheasant corporate hunting retreat.  If exceeding your clients expectations for entertainment is your goal, this is the experience you have been searching for.  World-class pheasant hunting, executive suites with king beds and private baths for every guest, and a private environment for your party to enjoy themselves are just a few of the exclusive touches you can expect.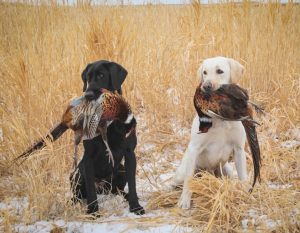 All-inclusive pheasant hunting packages offer you the complete experience: professional guides and hunting dogs for your private group hunt, executive suites with king size beds and in-room bathroom for every guest, a vast wine selection to compliment the finest fresh-prepared cuisine and so much more.
For the discerning wingshooter, South Dakota pheasant luxury lodges are a rare find.  With this rare luxury opportunity comes numerous re-bookings from year to year.  You will want to plan your experience here as early as your calendar will allow as space is limited.
Fishing
Hunting
Lodging
Length of Stay / Itinerary
Travel Details & Location
Other Activities
Internet & Communications
Pricing
Trip Insurance & Cancellation Info