Overview of Botswana Okavango Delta Photo Safari
Ah, the Botswana Okavango Delta photo safari!  The largest inland delta where the Okavango River meets a tectonic trough in the central part of the Kalahari.  All the water in the Delta ultimately evaporates and does not flow into any sea or ocean.  The Delta is produced by seasonal flooding during the summer months of January and February.  Therefore, various parts of the Delta are more productive for photo safaris at various times of the year.  Your Botswana Okavango Delta photo safari will leave you with memories to share for generations.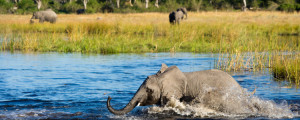 The Delta is perhaps the most unique ecosystem in Africa.  It attracts a vast number of both animals and birds.  It also attracts a wide variety of accommodations from tented camps to luxury camps.  We offer a tremendous variety of lodges in the area and all your transportation from camp to camp is by light aircraft or road transfer.
In the private 125 000-hectare Linyanti photo safari Wildlife Reserve that borders the western boundary of Chobe National Park in northern Botswanais an enormous, wildlife-rich area, shared between just three small camps (DumaTau, Kings Pool and Savuti Camp), which creates an unrivaled atmosphere of remoteness and space.
There are three main features of the Linyanti photo safari Concession: the Linyanti River, the woodlands of the interior and the well-known Savute Channel, famous as a sporadic and unusual watercourse. The Savute Channel stopped flowing between 1980 and 2008; during this time it was open grassland, home to a wide variety of animals. In 2008, it began to flow once more, creating a water source that rapidly filled with aquatic life, wide varieties of waterbirds and hippo, amongst other changes. With two thirds of the Savute Channel located in the concession, Wilderness Safaris guests have private and exclusive access to its abundant game.
When we design your African safari you can expect the following:  We will listen as you share your vision of what your African Safari Experience should look like.  We then begin designing your safari with lodge and destination selection, activities selection, flights, meet & greet services, travel insurance, clothing & equipment list, countdown to Africa (this assist you with detail preparation leading up to trip time), detailed pricing with all included/not included items, and more.
As a full service African Safari specialists, we have visited over 80+ safari lodges in Africa over the last 30 years.  We selected only a handful of those for you that have met our strenuous criteria.  Combination big game hunting, bird hunting, photo safari, Cape Town and Victoria Falls safaris are our specialty.
We would like to credit many of the photos in the photo area of this destination to Wilderness Safaris who is one of our partners in building custom private itineraries.
Fishing
Lodging
Length of Stay / Itinerary
Travel Details & Location
Other Activities
Internet & Communications
Community Service
Pricing
Trip Insurance & Cancellation Info