Overview of Argentina Rustic Red Stag Hunt
In the heart of the La Pampa province sits one of the largest privately owned properties in Argentina where you can hunt red stag, puma, water buffalo, fallow deer, feral goat, wild boar, blackbuck, four horn sheep, mouflon, and hybrid sheep. The rustic lodge has been built and decorated with the purpose of building the comradery and memory making of your companions.
This ranch has a habitat as diverse as its species, ranging from dunes to thick brush to green, tree-spotted plains. There is an opportunity here to hunt the 50,000 acre high fence area and the 5,000 acres free-range area.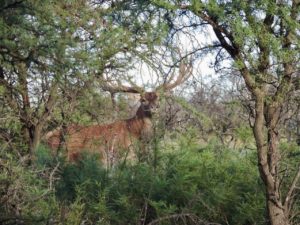 This is an excellent spot for a group of friends, father/son, or clients looking to make once-in-a-lifetime memories in the field. The lodging can be considered rustic with a comfortable feel. Their trophy room/game room has a large fireplace and mounts from around the world. Each room is comfortable and has everything you need to have a great stay. The main living room has another very large fireplace… be careful not to get too close or you will be sweating!
Your hunting adventure will consist of truck hunting, spot and stalking, or hunting from box blinds as you wish. Because of the various habitat types on the property, your stalks will be exciting as you must navigate the change in terrain to outsmart the wildlife. It is not uncommon here to chase after FREE RANGE stag ranging from 300-340 SCI points which are consistently growing due to the management system set in place by their biologist. Your expert guides and attentive staff will provide you with the best chances of success from keeping your belly full of good food to taking you on the best stalks for your prey.
Hunting
Lodging
Length of Stay / Itinerary
Travel Details & Location
Other Activities
Internet & Communications
Pricing
Trip Insurance & Cancellation Info