Overview of Spain Driven Bird Hunt
Spain is known for the traditional driven bird hunt for challenging fast flying red legged partridge.  Even the most accomplished wingshooters will be humbled by these driven bird hunts.
We bring to you the oldest single owner and finest outfitting company in Spain established in 1975.  It is important to shoot with an outfitter that has built their reputation on decades of experience.  A testament of success is the number of repeat guests that return every year to this luxury lodge for their driven bird hunts.  We believe this should be counted among your lifetime hunts as you will become a part of this warm and friendly family of hunters and long to return year after year.
You will be treated to an experience your entire group will remember for the rest of their lives. The shooting culture and the fanfare that follows suit brings even the most seasoned wingshooter unique pleasure. When you meet the owners, you will immediately know that you are in excellent hands and with people that you will want to hunt with for years to come.
The driven bird  hunt has been a long time tradition in Spain. The Red Legged Partridge is a fast flying bird that follows the contour of the terrain.  We normally organize groups of 6-8 shooters for a program of three days shooting and four nights. The average bird bag for the three days is 1800 birds between the whole line. A typical day will include 4 hunts with a "taco" or light snack in between followed by a delicious late lunch. Each shooter has a loader and a "secretario" which carry all the guns and shells around the field. Two guns of the same gauge are very recommendable as the birds normally come in flocks. It is once in a life time experience for any avid bird shooter. The accommodation during the shoot is at the owners' 16th century luxury lodge only a 15 minutes drive from the hunting fields.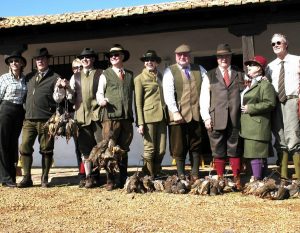 A common question is how do Red Legged Partridge fly? At this lodge they are described as medium high extremely fast flying birds! As the partridge hear the shots of a shotgun, they will to dart and dive and quickly adjust directions! Partridge shoots in Spain are unlike English pheasant hunting where the pheasant will tend to fly higher at the sound of the blast and are considerably slower birds.
The owners of this lodge will never brag on their client list but we know from our experiences that kings, presidents, and high profile clients are their norm.
Hunting
Lodging
Length of Stay / Itinerary
Travel Details & Location
Other Activities
Internet & Communications
Pricing
Trip Insurance & Cancellation Info