Overview of Italy Big Game Hunting & Touring
On our recent visit to Italy big game hunting trip, we were amazed at the abundance of game we saw on every beautiful property we visited!  Italy big game hunting is the next great adventure.  The private access that this elite outfitter enjoys on the finest hunting estates owned by the ancient noble families is without equal in Italy.
SEE SAMPLE ITINERARIES BELOW
The best hunting estates in Italy are still owned by the ancient aristocratic families who have maintained, over the centuries, great hunting traditions. However, these properties are accessible only to owners and their restricted group of friends.  This outfitter's mission is to open up these exclusive Italian estates to world wide enthusiasts while offering them and their families an unforgettable and exclusive Italian experience.
WE WILL PLAN YOUR ENTIRE ITINERARY WITH HUNTING MIXED IN TO YOUR DESIRES!  TOUR ROME, VENICE, TURIN, SNOW SKI, FLORENCE, HIKING IN THE ALPS, QUAINT VILLAGES, CASTLES, FIVE STAR HOTELS, HIDDEN VILLAGE INNS, PRIVATE HUNTING CHALETS, PRIVATE HUNTING LANDS THAT NO ONE ELSE HAS ACCESS TO…THIS IS A VERY PERSONALIZED ITALIAN ADVENTURE!
Every Italy hunting trip and touring itinerary is a tailored program, specifically designed to address your personal wishes and desires.  Hike in the alps on properties passed down by the King of Italy to this family, hunt on the most elite private estates, dine in quaint towns overlooking breathtaking scenery, taste the most delicious wine at private wineries with the wine chef as your guide and host for lunch and more.  This is just the tip of the iceberg when we design your Italian experience.
Without a doubt, this is the perfect combination trip for families and couples who wish to enjoy quaint towns and villages, off the beaten path touring all combined with some of the best big game hunting in Europe.   Combine any trip with private touring in Rome, Venice, Florence, Torino, the Italian Alps and more for a perfect well rounded vacation sure to please everyone in your group.  Your lodging options are endless from the finest 5 star hotels to private villas, castles and mountain hideaways.  Each itinerary is completely customized for your group.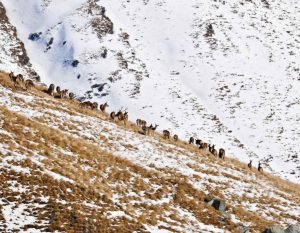 The choice of the hunting area, accommodation and guide, the chance to obtain record trophies, to combine various animals or to discover different regions are all aspects we carefully study in order to create the experience our guests are looking for. We will put the same effort in taking care of non hunters organizing for them cooking classes, wine tastings, history and art visits, shopping and every other interest they will have while you are enjoying your passion.
While hunting in Italy with us, you will access some of the most exclusive privately owned hunting areas, taking advantage of the combination of century's old game management, low hunting pressure and fully dedicated services. We hunt in Italy 14 different areas in six different regions, offering quality trophies on 7 of the main European big game animals.  Your choice of hunting Roe Deer, record Chamois,
European safaris are the next frontier of travel and we are the leading provider of such adventures.  Just think of it, Italy, England, Croatia and Spain all in one exciting extended experience all the while the hunters and observers enjoy our complete attention.  You may decide that you want to mix big game, fishing and wingshooting all in one adventure…
Every Italian hunting program always grants hunters and companions an exclusive hunting experience and the chance to visit these cities as well as these landscapes, where one can enjoy the boutiques of luxury fashion brands or world renowned vineyards and breath the real essence of "Made in Italy".
Hunting
Lodging
Length of Stay / Itinerary
Travel Details & Location
Other Activities
Internet & Communications
Pricing
Trip Insurance & Cancellation Info