Overview of Red Stag Hunt Argentina - Patagonia
Looking for a Red Stag hunt Argentina experience? This Patagonia hunting area of Argentina is considered the finest free range Red Stag hunting in the world!  This beautiful 60,000 acre  mountain ranch is a mix of free range and preserve properties.  Lovely accommodations and an excellent chef complete your stay.
The rolling hills and scenic terrain are surrounded and crafted by the rivers and streams that flow through the property. Breathtaking views make this area the perfect habitat for the species offered including the Red Stag, Fallow Deer, Axis Deer, Blackbuck Antelope, Russian Boar, Pere David's Deer, European Mouflon, Black Jacob's Ram, Patagonian Dall, Patagonian Ram, Multi-horned Sheep, Wild Goat, and Balearean Boc.
Hunters will find this country vast and open. This makes it easy to spot game from high vantage points. The captivating surroundings and the wilderness of the country provide a once-in-a-lifetime hunting experience, even for the most experienced and ambitious hunters.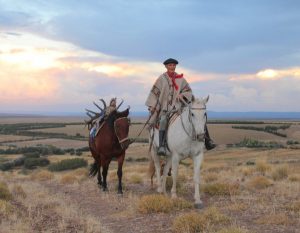 These Patgonia hunting properties hold the world's third largest population of Pere David's deer. It is the only place in the world where Pere David's deer can be hunted free range.
As a result of over 20 years of hard work and game management, hunters can also find numerous trophy Red Stag. The properties' hills and vegetation have provided an area where Red Stag have flourished and increased in both size and number.
Hunters who prefer to use a bow are welcome. Many trophy animals have been taken with a bow & arrow on this property because of the number animals on the property, low hunting pressure, and cover.
Hunts begin each day by driving in 4WD trucks through the property. After an animal is spotted, the stalk takes place on foot. Hunts on horseback are also available. (Trucks will not be used, the hunter and party will be on horses until it is time to stalk the animal.)
There are many activities available for those who prefer not to hunt! Each day, guests may choose to join the hunt or enjoy the other activities such as horseback riding, hiking, shopping, spa and more.
Hunting
Lodging
Length of Stay / Itinerary
Travel Details & Location
Other Activities
Internet & Communications
Community Service
Pricing
Trip Insurance & Cancellation Info