Overview of Montana Bighorn River Fishing Lodge
Montana is the sportsman's dream state! This Montana Bighorn river fishing lodge is no exception with fabulous fly fishing on the famed upper and lower Bighorn River.  They also have great wild bird hunting for Hungarian Partridge, Grouse and Pheasant as well. Combine the two in September or later for a fantastic cast and blast combination.
Exceptional personal service for small groups of hunters and fishermen/women is the standard set by lodge managers John and Rebecca. You will not find a formal resort here; instead, you will find a second home in Montana where your every need is met by a seasoned, friendly and professional staff. You will also find some of the world's best fly fishing and bird hunting opportunities. Bighorn fishing will remind you why you love to fish.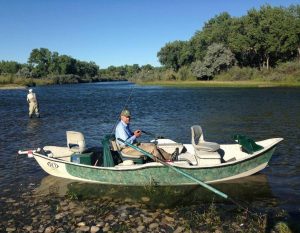 John and Rebecca enjoy a high return of past clients which means that you will want to call long before your desired fishing trip.
The Bighorn River is indisputably one of the finest fisheries in the world, providing miles and miles of blue ribbon water for rainbow and brown trout. Its cool temperatures and steady flow, combined with prolific insect life, provide an ideal environment for trophy trout.
The Bighorn holds a greater number of large trout – fish in the 15-20 inch range – than any river in the United States. With around 8,000 trout per mile, it is not uncommon for an average angler to land 20 fish between 15-20 inches in a day, and most manage to hook into fish over the 20 inch mark during their stay.
Host to phenomenal fly hatches nearly year round, the Bighorn provides excellent fishing from April through November. However, June through August is considered prime season. As a tailwater fishery, heavy run-off is never a problem, making it one of the few fisheries where fishing is good in the spring and fall.
This lodge is also one of the few outfits to guide on both the upper and lower stretches of the Bighorn. Their experience on the lower Bighorn presents opportunities for exceptionally large trout and allows guests to fish this world famous river in near solitude. Bighorn river trips combine float fishing from McKenzie-style drift boats with traditional stalk and wade techniques.
Fishing
Hunting
Lodging
Length of Stay / Itinerary
Travel Details & Location
Other Activities
Internet & Communications
Pricing
Trip Insurance & Cancellation Info