Overview of Idaho Back Country Fly Fishing
Where adventure meets amazing back country fly fishing in Idaho. Disappear and unplug in our comfortable back country fly fishing camp where native cutthroat trout will challenge your fly fishing skills.
Your first night of the trip will be at the luxury lodge set on a 5,000 acre ranch checking.  You and your guide will check your gear that evening to prepare for the next morning pack in to camp.  Once you and your guide feel confident that you have all that you need to be comfortable in their remote camps, you will be off on horses with your gear on mules.  The pack-in is a scenic 5 mile trek to your comfortable back country fly fishing camp.
As your travel to your camp take in the sights of this diverse and dramatic back country  landscape which unlike any other you have seen.
These native cutthroat are pursued from our pristine back country camp, Osprey Creek. The fishing is all wet-wade and fish numbers are high.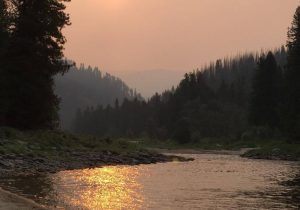 Every detail of your trip will be arranged for you from the moment your flight arrives until your trip draws to a close. We pride ourselves on offering inclusive adventures, always upfront on pricing, so that only good surprises await you from start to finish.
We are fortunate to offer trips for the cutthroat trout. It is in fact Idaho's state fish!
Fishing
Lodging
Length of Stay / Itinerary
Travel Details & Location
Other Activities
Internet & Communications
Community Service
Pricing
Trip Insurance & Cancellation Info