Overview of South Africa Hunting Safari - Northern Cape
This rare South Africa hunting safari gem stretches over 200,000 acres in the Northern Cape Province, making it the largest privately owned hunting concession in the country.  The land is extremely diverse ranging from wide open spaces to gentle hills to thick brush and even small rocky mountainous areas.  One of the most diverse properties we have ever visited in Africa.  Few South Africa hunting safari properties enjoy the service and exceptional diversity of this amazing land.
The reserve forms part of the Kalahari Desert (meaning "large thirst" in Tswana) which is a huge red sand basin that reaches from the Orange River up to Angola in the north, in the west to Namibia and in the east to Botswana.  The sand masses were created by the erosion of soft stone formations making this most of the most unique and picturesque places in Africa.
As you will see from the photos, this is a luxury property overlooking a productive water hole where sable, nyala and other plains game animals regularly visit.  Your staff is attentive, the chef prepared meals are delicious and the professional hunters are experienced and energetic.
Four of the Big Five (lion, leopard, cape buffalo and rhino (black and white) roam this landscape as well as numerous other plains game such as kudu, springbuck, red hartebeest, blesbuck, wildebeest, zebra, oryx, eland etc. one can also find sable, roan and nyala and numerous other species.  This is the land of any hunters dreams!
This is a malaria free area.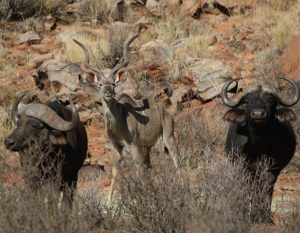 The world's most discriminating hunters frequent this amazing hunting safari land.  You and/or your group will be hosted exclusively without other groups on safari at the same time.
Hunting
Lodging
Length of Stay / Itinerary
Travel Details & Location
Other Activities
Internet & Communications
Community Service
Pricing
Trip Insurance & Cancellation Info