Overview of Alaska Adventure Fishing Lodge
When you are planning your trip to Alaska, there are many considerations such as do you want to go freshwater fishing, saltwater fishing and do you want other activities while there.  You will check all the boxes at this Alaska Adventure Fishing Lodge.  For the die hard angler, this is the spot.  For the angler that wants to add some other activities to the trip, this is the spot.  Finally, for the person that wants to have an all around Alaska adventure and wants to fish for the first time, this is the spot!  If you love steelhead fishing, this is one of the finest locations for a high opportunity trip.  This may just the trip to catch that first steelhead.
Your Alaska adventure fishing lodge is located south southeast of Ketchikan by float plane.  When you land in Ketchikan, we will immediately connect you to your float plane and you will be at the lodge for dinner.  It is easy and we take care of all the details.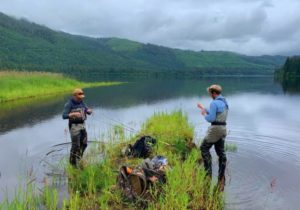 You might ask what you will be fishing for?  Depending on the month of your trip, you might be fishing for steelhead, salmon, dolly varden, halibut, rock fish and ling cod.  On a typical 4 night/3 day fishing trip, it is not uncommon to travel home with a big box of fresh fish to enjoy for the next year.
There are numerous activities available from the lodge such as whale watching, visiting a totem pole village, hiking, beach combing, kayaking, quaint fishing villages, pulling up crab pots for your dinner and more.
Did we mention those that will serve you at the lodge?  The staff is fantastic and they treat you as if you are home.  In fact, when you land in your float plane the first words you might hear are, "Welcome home.  Please make yourself at home!"  Your experience will cause you to want to return year after year.
Fishing
Lodging
Length of Stay / Itinerary
Travel Details & Location
Other Activities
Internet & Communications
Pricing
Trip Insurance & Cancellation Info