Overview of Colorado Fishing Lodge
We like to think of this Colorado fishing lodge as "The Masters" of fishing.  The owners of this land painstakingly rehabilitated a 16 mile private stretch of water ON property!  Beautiful healthy big trout swim freely and in abundance.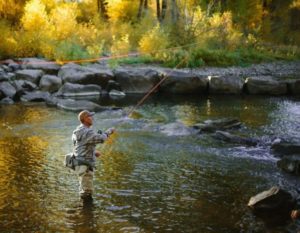 With a limited number of guests, the lodge and spa is a luxury getaway, replete with the most decadent amenities and superior personalized service. Because of decades-long commitment to sustainable land use and conservation thousands of pristine, private acres are yours to explore.
On arrival, you are paired with one of North America's most talented, knowledgeable, and friendly guides.
Along with magnificent fishing and numerous exciting activities such as a luxury spa, skeet shooting and horseback riding.  This expansive 200,000-acre ranch embodies the true West.  While at the ranch, you will certainly enjoy learning of the history of this land dating back to the late 1800's.
Corporate and board of directors getaways at a whole new level!  The world's first 200,000-acre, indoor-outdoor office space and contemporary conference center makes this the perfect place for your next executive retreat.  This ranch makes working feel a lot less like actual work.
If indoor meetings are on the agenda, attendees will feel right at home when getting down to business in rich, leather chairs surrounding mahogany conference tables.
Fishing
Sixteen miles of river were painstakingly rehabilitated to what Mother Nature intended more than 150 years ago, dramatically decreasing erosion and increasing the fishery's health.
Our upper 16 miles of the Little Snake River system are the premier trout fishery on the planet. The most beautiful trout you've ever seen swim freely and in abundance — awaiting the temptation of your fly. Our cast of experienced guides can help novices and experts alike find the water that fills their dreams and challenges their skills. Catch, release and relish every minute.
Our guests routinely rank fly fishing here as the best fly fishing destination in North America — and perhaps the world. The level of detail and custom tailoring makes this a true luxury fishing resort. Our guides are top-notch as well, unrivaled for their experience, skill, and passion for their work here at the Ranch. Our unique guiding model, in which we pair our guests with a personal guide that serves as their Ranch ambassador for the length of their stay, guarantees the best days you've ever spent on (or in) a river.
Make your dream come true by making the coveted 25″ club which is celebrated with your photo on the hero board.
Lodging
Lodge:  Roaring fireplaces surrounded in hand carved Russian Pine paneling invite relaxation over afternoon tea, socializing with family and friends, or quiet moments with a captivating book. Western oil originals by Craig Tenant and Wayne Cooper decorate the walls in pleasant contrast to intricate Chinese porcelain. Hardwood walnut floors frame exotic oriental rugs. Enjoy the music coming from our one-of-a-kind Steinway, played by one of the furrier local natives.
With limited rooms in this stunning lodge, lodge suites and luxury cabins privacy is not an issue.
You will choose from two master suites with 11oo square feet of luxury, two library suites with 1200 square feet of warmth and luxury or 11 deluxe rooms with 550 square feet.
Private Lodge:
Our luxury Tree Houses are an incredibly unique accommodation for discerning guests. The twelve elegant and one-of-a-kind guest residences have been designed specifically for those looking for a more secluded and private experience during their stay on the ranch. The Tree Houses are perched on a scenic ridgeline above the Main Lodge. They are close for easy access to everything at the ranch, yet far enough away to provide you with your own private hideaway. Each luxury Tree House features two king beds in a large master suite and a private bath with his and hers exclusive amenities situated on each side of a luxurious shower. It's unlike anything you've experienced before! Your large private balcony can be accessed from the bedroom or the living area where you can relax in front of a roaring fireplace or take in the views outside in the fresh air. Each morning our staff will personally deliver to your suite a bountiful basket of freshly made pastries, breads and fresh fruits to accompany your coffee, tea or juice.
Dining: Each meal selection is yours to customize — from your morning tea service to your end-of-day dessert. Your guest room comes fully stocked with snacks and drinks to satisfy mid-day (or midnight!) cravings, and all meals and beverages are always included.
Length of Stay / Itinerary
Each itinerary is customized for your pleasure and he interests of your group!  Most guests stay 3 – 7 nights.
Travel Details & Location
The ranch is located near Dixon, Wyoming or Steamboat, Colorado.
Commercial flights:  Yampa Valley Regional Airport near Steamboat Springs where the lodge will pick you up or fly into Denver and rent a vehicle on your own to drive to the resort.
Private Planes:
Dixon airport is open in the summer and fall and is approximately 40 minutes from the resort. There are no fueling facilities here for private planes.
Yampa Valley Regional airport near Steamboat (HDN) is an hour from the resort.  Fuel and hangers are available for private planes.
Other Activities
Numerous activities by season are available:
Wellness Classes including Mayo clinic trained spa staff!

boot camp
gym fitness 
circuit training
meditation
energy work
yoga
yoga nidra
TRX
mat pilates
barre

Massage therapies
Spa – 6,000 foot spa with all the amenities
3D archery course – walking course for novice to expert with 13 stations – equipment provided
Shopping in Steamboat Springs
Cooking classes with culinary experts
Fishing
Artwork – is home to a wealth of unique, one-of-a-kind works of art
Hiking
Biking
Horseback riding
Sporting Clays course
Wildlife tours
Fly fishing
Ice fishing
Snowmobiling on the ranch
Cross country skiing on 50 miles of trails on the ranch
Snow shoeing on the ranch
Tubing on the ranch
Snow boarding on the ranch via snowcats – no lines – 20 trails
Skiing on the ranch via snowcats – no lines- 20 trails
Big game hunting
Internet & Communications
Wifi is available throughout the lodges and cabins.
Cell services not available on the property or spotty at best.
Community Service
We routinely open our doors (and riverbanks, bike paths, and ski runs) to organizations that are near and dear to us and our guests. Every year, we donate more than $250,000 worth of experiences to a long list of local and national causes that benefit the arts, medical research, animal and river conservation, wounded veterans, and many more. We are proud to support worthy efforts that enrich the larger world and give hope to people in need.
We pledge to protect and preserve our resources while providing a superior personalized vacation experience for each and every guest. The wellbeing of our guests and our surrounding natural environments have been considered in every operations decision since 1999. From minimizing food waste to implementing the most extensive and expensive river restoration project in North America, we endeavor to honor the land and its resources such that they flourish and thrive — the way Mother Nature intended.
Pricing
2023 Pricing:
Pricing starts at $2,000 per person per night inclusive
Trip Insurance & Cancellation Info
Trip insurance is highly recommended to protect your investment on this trip. We will assist you with trip insurance upon booking. See links at the bottom of this page for the two providers we suggest for our clients.
Antlers & Anglers Worldwide, LLC confirmation and refund policy:
If your trip is more than 90 days out from date of departure, a 50% non-refundable deposit confirms your reservation and must be received within 10 days of booking to confirm your dates. All trips must be paid in full at least 90 days prior to the departure date. If your trip date is within 90 days, FULL payment for the trip is required. All payments to Antlers & Anglers Worldwide, LLC are non-refundable. Should you need to reschedule or cancel your trip, we will do everything in our power to assist you in finding a suitable substitute or transferring your dates per the lodge/providers/government requirements. Trip insurance protects your investment!"