Overview of Colorado Fishing Lodge
We like to think of this Colorado fishing lodge as "The Masters" of fishing.  The owners of this land painstakingly rehabilitated a 16 mile private stretch of water ON property!  Beautiful healthy big trout swim freely and in abundance.
With only 15 guest rooms, the lodge and spa is a luxury getaway, replete with the most decadent amenities and superior personalized service. Because of decades-long commitment to sustainable land use and conservation thousands of pristine, private acres are yours to explore.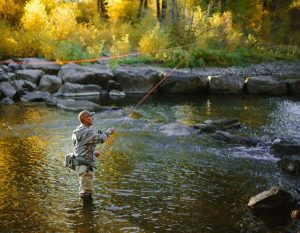 On arrival, you are paired with one of North America's most talented, knowledgeable, and friendly guides.
Along with magnificent fishing and numerous exciting activities, this expansive 200,000-acre ranch embodies the true West.  While at the ranch, you will certainly enjoy learning of the history of this land dating back to the late 1800's.
Fishing
Lodging
Length of Stay / Itinerary
Travel Details & Location
Other Activities
Internet & Communications
Community Service
Pricing
Trip Insurance & Cancellation Info