Overview of Mozambique Hunting Safari
This Mozambique hunting safari is a rare jewel in Africa.  A bygone era discovered where remote and unspoiled define your Mozambique hunting safari.  1,700,000 acres located in the pristine Miombo woodlands within teh legendary Niassa Reserve in Northern Mozambique.  This area is well-known as the finest area for daytime leopard hunts and exceptional Buffalo hunting.  Years ago this area was in decline but due to the courage, conservation and dedication of the land managers it is now flourishing with game.
Located in the heart of the hunting area is 36 miles is the Lugenda River.   It provides the main lifeblood of the region as all animals make their way here in the drier months of the year.  Thus on this beautiful Mozambique hunting safari property game concentrates from July to the end of the year where the water source is most prime.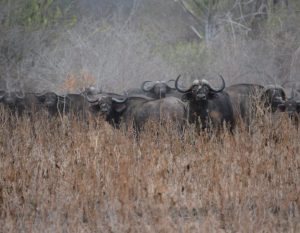 As a result of the stringent conservation measures, trophy quality has emerged as the winner.  Only mature post reproductive trophies are hunted.  For instance, when you are hunting cape buffalo, your professional hunter will be in search of a dagga boy that has left the herd.  As a result, you can count on large hard bossed trophy quality.  Because of the huge population of leopard and low hunting pressure, daytime leopards are a common occurrence with high success for a mature cat.  Since the land is managed with strict quotas, you will want to let us know what species you wish to hunt ahead of time.  Numerous plains game animals roam this area such as sable, Grysbuck, Lichtenstein hartebeest, kudu, suni, waterbuck, Bohms zebra and more.  Hyena, crocodile, lions and elephant are also found in this area.
On your arrival just as you think there cannot be civilization nearby, you round a bend in the road and located high up on this river's banks is the luxury lodge. The most amazing views towards the west greet you each evening on your return from a hard day of hunting.   Truly, this must be paradise.  Take a reprieve from the heat of the day and race to the infinity pool overlooking the riverbed.  Thatch air-conditioned lodges with en-suite bathrooms, an open-air bar, lounge and dining area, graced with a superb infinity pool for your leisure. It is hard to imagine but this remote camp even has broadband Internet and satellite TV (upon request).
You do not need to worry about your travel to the lodge as we will have your light aircraft waiting on you when you land in Pemba to take you to within 100 yards of the remote lodge.  Your flight takes you over granite mountains, towering over the Miombo forests, open grasslands, bamboo thickets, floodplains and riverine forests and the mind-boggling diversity of this biosphere is unequaled on the African Continent.
Homemade movie below…excuse the shaky video.
Hunting
Lodging
Length of Stay / Itinerary
Travel Details & Location
Internet & Communications
Community Service
Pricing
Trip Insurance & Cancellation Info