Overview of Argentina Red Stag Hunt - Cowboy
If you are looking to experience the rough and tough of Argentinian Gaucho life mixed with as authentic as it comes red stag hunting, look no further! At this destination you will be staying in a small ranch house with the gauchos living only a few yards away. It is located on a 36,000-acre active cattle farm where the Gaucho's work the cattle and the land daily. You will have access to incredible free-range (36,000 acres) hunting for red stag as well as water buffalo, blackbuck, axis, mouflon, dove, fallow deer, dorset sheep, and four horned sheep. There is also a high fence hunting area which is and high-fence 2,400 acres.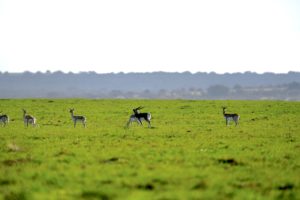 The free-range hunting on this property offers you the rare opportunity to go after monster red stag up to 350 SCI points in both the free range and high fence properties. This is achieved through an excellent natural management system the owners have put into practice which does not include added genetics in either the free range or high fence areas. You also have the opportunity to hunt the 2,500-acre high fenced area for red stag.
The lodge is an old ranch house that will make you feel like you are back on the hunting lease with your buddies. It has room for 6 guests with its three bedrooms and small living room/dining room with brick fireplace. Throughout your stay you can go out on horseback for a ride or follow the gauchos around to watch them practice their craft. Similar to your hunting camp, the experience offered here is all about being in the great outdoors and building comradery.
Our Experience at This Lodge
Hunting
Lodging
Length of Stay / Itinerary
Travel Details & Location
Other Activities
Internet & Communications
Pricing
Trip Insurance & Cancellation Info