Overview of Alaska Fishing Lodge - Sitka
In our opinion, this is the top small all-around salt water/fresh water Alaska fishing lodge!  Here you will take advantage of a variety of fishing experiences in one trip from Salmon fishing to Halibut fishing along with numerous activities!  Enjoy the friendly veteran staff, pulling up crab pots, kayaking, hiking, whale watching, fishing and lots of fresh seafood.  Each evening, YOU choose your activities for the following day.  Such flexibility is very unusual among Alaska fishing lodges.
This remote lodge is nestled 20 air miles east of Sitka. A short, spectacular float plane ride from Juneau delivers you directly to the floating lodge side dock.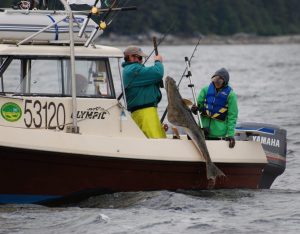 The people, facilities, activities and the fishing are fantastic.  Each evening pick your adventure for the next day from the "FUN BOARD".  You might enjoy halibut fishing one day, stream fishing the next, whale watching and island exploring the next and on and on.  The staff caters to your desires each day.  Simply put, this is an AMAZING ADVENTURE that you will never forget.  Our clients rank this lodge as among their favorite destinations in the world.
This Alaska fishing lodge fills early and it is not uncommon for us to be booking dates two years in advance.  They enjoy an amazing repeat clientele and and stellar reputation in the fishing and hospitality industry.
Fishing
Lodging
Length of Stay / Itinerary
Travel Details & Location
Other Activities
Internet & Communications
Pricing
Trip Insurance & Cancellation Info