Overview of Wyoming Upland Hunting, Fishing, Horseback & Spa
Wyoming upland hunting, fishing, big game hunting, horseback riding, spa and adventure awaits you and your family at this amazing top shelf resort!  As each new day begins, new experiences, delicious meals and gorgeous scenery await.
Voted #2 Hotel & Resort in the World, #1 Resort in the USA and #1 Dude Ranch in the USA by Conde Nast Traveler!
Welcome to the true spirit of the West. Majestic scenery, limitless luxury, and endless adventure exemplify this luxury dude ranch situated on 30,000 acres of Rocky Mountain wilderness in Saratoga, WY.  This is where rusticity meets luxury; a unique setting where one can reconnect with nature, revitalize the senses, and indulge in unlimited adventure.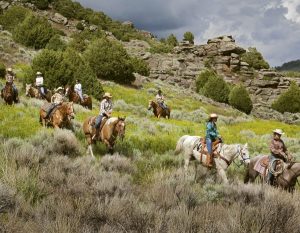 Situated in the heart of Wyoming's famed Platte River Valley, between the Sierra Madre Mountain range and stunning Medicine Bow National Forest, This luxury ranch resort is an all-inclusive choice among Wyoming dude ranches, exclusively designed for discerning travelers, ambitious adventurers, anglers, wingshooters, and family ranch vacations . This luxury dude ranch features a 38,000-square foot lodge, a rejuvenating spa, a fine collection of cabin suites & residences and a variety of authentic outdoor adventures for every season.
They offer high opportunity but limited numbers of mule deer, antelope, elk and mountain lion hunts.
Adventure activities abound for the entire family from zip lines to horseback riding to sporting clays, spa and dude ranch activities.  The ranch is open May through October, after Christmas and limited other weekends during the winter and spring.
Fishing
Private fly fishing waters provide over 20 miles of exclusive access on the North Platte and Encampment River, as well as Brush Creek and French Creek.
20 Miles for guided trout river trips: 
The crystalline waters of the North Platte River watershed in Saratoga, Wyoming are celebrated as some of the most revered freestone waters  for fly fishing in Wyoming. Between Brush Creek, French Creek, and the North Platte and Encampment Rivers you have the pleasure of enjoying over 20 miles of pristine, exclusive private water access by way of rafts, drift boats, or wading. Flowing beautifully through broad canyons and sloping valleys, this river is one of the most iconic fly fishing destinations in North America.
Providing one guide for every two guests, you'll receive attentive, personalized service, whether you prefer detailed instruction or advice on how to maximize your time on these storied fishing waters. With over 40 years of combined experience, guides are familiar with every aspect of Wyoming fly fishing.
On ranch private waters:
Enjoy fly fishing on idyllic private waters of the ranch creek as it meanders through the property. Leading environmental design firm, Walsh Environmental, provides ongoing stream enhancement, restoration and trout habitat support as part of our ongoing sustainability plan. From casting lessons to guided wading, the creek offers excellent holding water for brown trout and brook trout under a canopy of towering cottonwood trees.
Off ranch fly fishing trips: June through September
They offer both wade and float fishing on private waters throughout the North Platte River valley, on rivers that course through canyons, open ranch land, forested areas and towering cottonwood groves. Trip lengths range from half-day to full-day excursions, with most of the fishing done from our low-side drift boats. Access to these freestone rivers, including the celebrated North Platte and Encampment Rivers and French Creek, is dependent on snow melt and rainfall, so guides can recommend the ideal section based on current conditions during your stay. As a rule, floating is usually best from June through September. They also offer wade trips on some of the best water on the Upper North Platte. Depending on flows, wade fishing is usually the best way for anglers to really work a specific section of the water.
We catch and release using only barbless flies. Runoff peaks happen during late May and early June. Our best time of year is usually late June or July, and late august through October. Classic small western trout stream with rainbow, brook, and brown trout. Many methods of fly fishing can be utilized from dry flies to streamers.
Hunting
This luxury outfitter is a low impact, fair chase big game hunting and premiere fly fishing operation on over 30,000 acres of private ground in the heart of the Platte River Valley of south central Wyoming. Bordering the famed Medicine Bow National Forest "Snowy Range," the area's spectacular habitat includes tree-lined riparian creek and river bottoms, vast native hay meadows, rocky, big draws covered in sagebrush and pine timber patches, and aspen groves on hillsides and mountain slopes.
Bird Hunting: August through October
Embark on an exciting upland or waterfowl hunt in Wyoming led by professional bird dog trainer Vickie Lamb and the outfitting team. From a classic walking hunt to a multi-challenge Tower Shoot or European style Cliff Shoot, you'll enjoy an exciting day in the field, along with the chance to see some of the best Labrador retrievers, spaniels, pointers or English setters in Wyoming go into action, retrieving your downed birds.
Walk up Bird hunting – Journey  into the vast private Wyoming landscape for a wingshooting adventure taking you across both meadowlands and high desert. All hunts are fully outfitted and guided and consist of 1-4 people, at least one guide and a variety of dogs. There are no limits and there is the possibility of a mixed bag of pheasants, Hungarian partridge, Chukar and Quail. You will be walking over uneven terrain for about three hours. Note: Double barrel guns are utilized on this hunt.
Cliff Driven Hunts – Based on the Scottish and English traditions of driven hunts, they offer fast-paced and challenging cliff driven shoots. "Beaters" push droves of birds off natural cliff barriers where they take flight overhead of awaiting hunters. Each hunter is paired with a loader and is strategically placed to get lots of shooting. Hunters will be cycled through different stations to get various difficulty shots. Seasoned shooters often look for the difficult "high" shots to test their shot gunning abilities. These hunts require a minimum of eight hunters. You can expect a mixed bag of Pheasants, Hungarian Partridge, and Chukar.
Wingshooting Golf – Wingshooting Golf is an entertaining shooting addition to traditional bird hunting offered, with two different 20-station courses set up in  rolling meadows and sage brush valleys. Each course can accommodate four hunters at a time and each station offers a variety of shots ranging in difficulty. Typically teams of two compete against each other and alternate between stations. Guides keep track of shots fired and birds hit, making for a competitive and fun edge. This is great for beginner and expert shooters alike.
Waterfowl Shoot –
Imagine yourself peering through a heavily brushed blind as the sun begins to rise and the world awakens. The decoys begin to appear in the pre-dawn light and whistling wings are heard overhead. A lab sits by your side, eagerly looking into the sky for the morning's first flight of ducks to light into the decoys. The only words spoken, after a few soft calls from your guide are…Take 'em!
South Central Wyoming is a unique hidden escape with lots to offer for waterfowl hunting; the area is on the far western edge of the Central Flyway, which brings a few migratory birds through the area. The majority of the birds being pursued are local birds. The North Platte River, warm water sloughs and ponds along the Encampment River, and vast hay meadows throughout the ranch attract both roosting and feeding waterfowl. All hunts are conducted on private lands that are scouted and managed for your success. They supply top of the line decoys, well-trained labs, shotguns, shells, waders, and anything else you could possibly need. All you have to do is show up. They strictly hunt decoyed birds supplying optimum close-in shooting opportunities. Follow up your morning duck hunt with a fly fishing adventure or an upland walk up hunt for an unforgettable day afield.
Big Game Hunting: 
All operations are carried out in a sustainable manner to minimize impact to the resident wildlife. The ranches they hunt are not leased; they exclusively own and manage all of their properties internally with the success of our sportsmen and women in mind. Day to day operations year-round are done so to minimize the effect on our local wildlife. Guides are knowledgeable of the area and the quality of animals living on the ranch. Quality optics are an essential piece of equipment when hunting with here, you will spend a bulk of our time glassing the areas looking for the mature quality animal to pursue. Both archery and rifle hunts are offered for all species.
Wyoming is a draw state but we will assist you with the process.  Mountain lion tags are sold over the counter.
Lodging
Inspired by the majestic beauty and rich history of the region, lodging at the ranch is where rusticity meets luxury. Choose from a wide range of Wyoming lodging options, including luxury cabins, splendid lodge rooms, and spacious log cabin suites.
The luxury dude ranch accommodations are inspired by the design and architecture of the original homestead built on the ranch, founded in 1884. Log cabins and lodges outfitted with modern amenities and lavish accents deliver the ultimate in comfort and provide a rustically elegant setting for an unforgettable luxury ranch vacation. Every design detail, from cowhide leather chairs to inlaid buffalo nickels, has been chosen to accentuate the spirit of the West and enliven your stay.
Dining:
Whether it's a smoked brisket, roasted rack of lamb or a whole smoked suckling pig, Chef Collin does everything with a little bit of a ranch twist to it, and always takes into account any special dietary needs from guests.
Dining experiences are exemplified by a variety of unique venues. Experience an expertly prepared campfire meal under the stars at the Creekside Dinner Camp, indulge in a multi-course meal in the opulent setting of the Trailhead Lodge, or come together with family and friends in the convivial and casual atmosphere of the Chuckwagon and Saloon. And these artfully prepared, fresh and hearty meals are included with your stay. Rustic and refined, dining will be one of the most memorable parts of your stay.
Length of Stay / Itinerary
Your length of stay is totally up to you!  Most guest enjoy a 4 night or more stay.
Travel Details & Location
The ranch is located about 20 minutes outside Saratoga, Wyoming in the famed Platte River Valley between the towering peaks of the Sierra Madre mountain range and the scenic splendor of Medicine Bow National Forest.
The best commercial airport options are Denver, CO (DIA) or Laramie, WY (LAR). Private planes can fly into Shively Field Airport (SAA) in Saratoga, WY which has an 8,800' runway where the lodge provides complimentary shuttle service.
Location in relation to nearby cities:
Cheyenne, WY (CYS) – 130 miles 2.25 Hours
Denver, CO (DIA) – 240 miles 3.30-4 Hours
Jackson Hole, WY (JAC) – 326 miles 5.50 Hours
Laramie, WY (LAR) – 75 miles 1.25 Hours
Rapid City, SD (RAP) – 370 miles 6.45 Hours
Salt Lake City, UT (SLC) – 334 miles 5 Hours
Saratoga, WY (SAA) – 13 miles 20 minutes
Steamboat/Hayden, CO – (HDN) 126 miles 2 Hours
Vail/Eagle, CO (EGE) – 203 miles 3.5 Hours
Other Activities
Numerous activities such as:
Horseback trail riding for every level
Cattle drives and specialty riding
Instruction and wrangling activities
Luxury spa
Sporting clays – 8 stations shoot
Skeet course
Archery – 3 D courses
Hiking
Mountain biking
ATV adventures
Guided ranger tours
Ropes Course
Zip lines
Rock climbing walls
Indoor sports and lawn games
Old Baldy golf course
Yoga and fitness
Snow skiing
Snow shoeing
Snowmobiling
Snowboarding
Cross country skiing
Ice fishing
Winter horse drawn sleigh
Farm tour
Distillery
Brewery
Green house
Bakery
Ropes course
Glamping
Yoga
Lil' Wranglers camp style activities for younger children from 4 years to 8 years
Internet & Communications
Excellent wifi is available in the lodges. Cell services are available however there could be remote areas of the ranch where cell service will be limited.
Pricing
Trip Insurance & Cancellation Info
"Trip insurance is highly recommended to protect your investment on this trip. We will assist you with trip insurance upon booking. See links at the bottom of this page for the two providers we suggest for our clients.
Antlers & Anglers Worldwide, LLC confirmation and refund policy:
If your trip is more than 90 days out from date of departure, a 50% non-refundable deposit confirms your reservation and must be received within 10 days of booking to confirm your dates. All trips must be paid in full at least 90 days prior to the departure date. If your trip date is within 90 days, FULL payment for the trip is required. All payments to Antlers & Anglers Worldwide, LLC are non-refundable. Should you need to reschedule or cancel your trip, we will do everything in our power to assist you in finding a suitable substitute or transferring your dates per the lodge/providers/government requirements. Trip insurance protects your investment!"