Overview of New Zealand Red Stag Hunting - Christchurch
This 4,500 acre high-country station and private game estate is located in the central South Island of New Zealand in the beautiful Canterbury high country. New Zealand Red Stag Hunting will take place on the largest registered hunting property in New Zealand!  Family-owned and operated since the early 1970s, this exclusive property offers not only your New Zealand Red Stag hunt opportunity, but plenty of other unique hunting and tourism experiences for discerning adventurers seeking a personal touch.  Whether you seek to hunt a trophy red stag, Himalayan tahr, Chamois, Fallow, Arapawa ram or simply want to take in the ambiance of the majestic game animals in a natural, wide-open space, the game estate is a great place to spend some quality time and have a challenging hunting experience.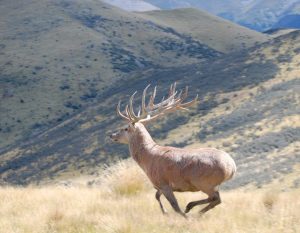 Their reputation is forged on the quality of their land, animals and facilities but most importantly, their commitment to provide you with an experience you will never forget. Their greatest reward is for their guests to leave the exclusive estate with a hunting experience they can't wait to share – a yarn to spin to their mates, bragging rights in the pub, a tale to impress their colleagues…more than just a trophy.
Fishing offered by the lodge is second to none in New Zealand.  They take advantage of the personal services of one of the island's finest fishing host/guides.  Touring activities such as horseback riding, golf, heli-skiing, helicopter touring, hiking, spa, and quaint town exploring are endless as well.  See the complete list at the "activities" tab.
Reputation and client satisfaction are of utmost importance.  New Zealand Red Stag hunts are legendary and this location is one of the reasons why!  With a minimum booking, you may enjoy this lodge exclusively for your group.
Outstanding fishing adventures in prime rivers and streams in the area accessible by four wheel drive vehicle and heli access!  Even more amazing combine hunting, fishing and numerous eco adventures.
Fishing
Hunting
Lodging
Length of Stay / Itinerary
Travel Details & Location
Other Activities
Internet & Communications
Community Service
Pricing
Trip Insurance & Cancellation Info