Overview of Argentina Red Stag Hunt Cordoba
A great surprise in the Cordoba province where you will find one of the most exciting Argentina Red Stag hunt opportunities.  Personal service, small boutique lodge set on 20,000 privately owned acres in the Cordoba area best known by most for volume dove hunting until now!   Besides an Argentina Red Stag hunt you might also add on an exciting Water Buffalo are found in this area!
This hunting Lodge, like so many Antlers & Anglers lodges, is managed by its owners. This family is a lover of the outdoors and very passionate about hunting and fishing. They have built this beautiful lodge to share their passion with people from all around the world. The family hopes that every guest that visits this unique setting will fall in love with the magic of this place in the same way they are.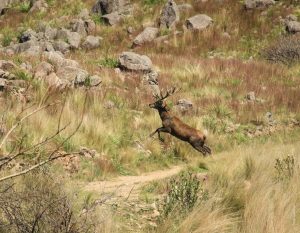 Located in the Calamuchita Valley in the Province of Cordoba, Argentina. This valley belongs to the Sierras de Córdoba and is known for its "Tour of the Great Lakes". The terrain is characterized by forests, craggy terrain with narrow side valleys (ravines), rugged hills and the highest peaks in the area.  Very interesting terrain and best hunted by horseback!  95% of the hunts on this property are on horseback.
It has a temperate climate year round, with frequent snowfalls in the winter (the austral winter so snowfall is mainly in July). The terrain is hilly and mountainous and the South Valley area is of volcanic origin. There are several active faults in the west central part of the valley.
This is a fantastic experience to combine with dove hunting in the area as well as some fishing in the creeks and rivers that run through the property.  Antlers & Anglers will customize the perfect combination itinerary for you or your group.  This lodge my be booked exclusively for three hunters!
Fishing
Hunting
Lodging
Length of Stay / Itinerary
Travel Details & Location
Other Activities
Internet & Communications
Pricing
Trip Insurance & Cancellation Info