Overview of Alaska Salmon Fishing Lodge - Ketchikan
This is an excellent Corporate fishing trip!  This Alaska salmon fishing lodge has a storied history. In 1912, pioneers founded a wild Alaska salmon cannery near Ketchikan on 52 acres of wilderness by a seaside waterfall on the west coast of Prince of Wales Island, a location known for generations in native legends for some of the best Alaska saltwater fishing spots ever. That cannery went on to break world records for the sheer volume of seafood it caught and exported all over the globe. More than 100 years later the renovated historic cannery is now home to all-inclusive fishing resort and has hosted more than 50,000 guests, making it one of the most popular fishing lodge in Alaska.
Three words define what makes this a top Alaska saltwater fishing spot for wild Alaska king salmon, silver salmon, halibut and more:  LOCATION, LOCATION, LOCATION!
The annual return of halibut and salmon to this location on Prince of Wales island adjacent to Alaska's Inside Passage gives this report its legendary reputation for premier Alaskan sport fishing.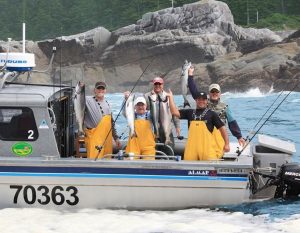 This lodge attracts anglers of all levels, from novice to avid, celebrities and professional athletes.  Guests from all over the world return here year after year to enjoy personalized service and one to one guide to staff ratio. You may customize the length of stay at this lodge from two nights to as many as you would like.  A perfect corporate opportunity!
Like our other top Alaska fishing lodges, this Alaska sport fishing lodge enjoys a high re-booking rate each year which means dates are sometimes difficult to come by.  That being said, the occasional opening and cancellation does occur.  Please call early to plan any trips to Alaska as they do fill early…sometimes even a year or two in advance!
Fishing
Along the West Coast of Prince of Wales Island where the resort is located, extreme tides and surging ocean currents create a habitat for millions of bait fish that attract annual returns of trophy-sized Salmon, Halibut, Red Snapper and Ling Cod.
These natural phenomena, which first attracted commercial fishermen, offer premier fishing grounds in Alaska for some of the best saltwater Salmon and Halibut Sport fishing in the world.
In fact, the resort was originally a Cannery and was once the most productive Salmon fishing canneries in all of Alaska.
Anglers of all skill levels from first time fishermen to expert anglers are catered to.
All fishing is from boats with excellent equipment provided by the lodge.  No more than four anglers per boat.
Fishing Equipment:
Each guest is outfitted with the very best equipment.  You'll enjoy custom designed Almar Aluminum Cabin Cruisers, Furuno Marine Electronics and perhaps best of all, Alaskan certified and professionally licensed Guides are happy to provide you with one to one service.
Tournament:
Open to all guests only, the resort has a $100,000 Salmon tournament!
Taking fish home:
You may take all the Salmon and Halibut home that you catch
Fish Timing Chart: Lodge opens June – August typically
Halibut: May-Sept
King Salmon: June & July Pink Salmon: August
Silver Salmon: July & August Red Snapper: May-Sept
Ling Cod: May-Sept
Bottom Fish: May-Sept
Government Fish Limits: Announced in the spring of the fishing year.  These limits mean the number of fish you can bring home but do not include catch and release.
Typically…1 king per day limit of 3
Typically…6 Silvers per day minimum length limit
Typically…1 Halibut with a slot limit but a Bonus Halibut tag can be purchased
Lodging
After an exciting day of wild Alaska sport fishing, relax in your comfortable accommodations including renovated Historic Boardwalk Cabins, Oceanfront Lodge Rooms, Executive House Suites, and Family Sized Townhouse Condos.
All accommodations come with daily housekeeping, a private bathroom and in-room amenities including a coffee maker and mini-fridge. Every room is within a short stroll (or courtesy golf cart ride) of the docks and cabin cruisers, panoramic guest dining room and popular saloon.
Large groups and corporate events also have access to a selection of meeting rooms and specialized business services
Length of Stay / Itinerary
Most trips are 2 – 4 nights.
Day 1:  In most cases guests will spend a night in Ketchikan, AK on the way up to the lodge.
Day 2: The following day you will check in around 11:30 for your float plane flight to the lodge. Flights depart around 12:30 for the 45 minute flight to the lodge. You will check-in at the lodge and hit the water for fishing until 5:30.
Day 3 +: Other days fishing is over at 4:30 PM.
Departure day:  On departure day you will fish till 9:30 or so and then return to the lodge. Lunch is 11:00 to 12:00. Flights back to Ketchikan will start shortly thereafter.
For example, a 3 day/ 2 night schedule would be arriving at the lodge after lunch day 1 for PM fish, overnight, full day fish, overnight, AM fish & depart back to Ketchikan.
Travel Details & Location
Most people fly through Seattle to arrival and departure airport is Ketchikan, AK.  From Ketchikan, the lodge arranges your float plane to/from the lodge.
Other Activities
The main activity here is fishing! But other activities include:
Game room
Beach combing
Hike to the waterfall
Take a fishing rod and fish in the waterfall stream for salmon on your own
Golf tea box
Whale watching
Before or after your trip to the lodge, enjoy some time in Ketchican!
This lively port town engages visitors with everything from historic Creek Street attractions (galleries, saloons, lumberjack shows, fresh-from-the-sea fish and chips) to extraordinary totem pole parks and Alaska heritage centers to museums chronicling the origins of the region's famed salmon fisheries and infamous red light district.
And farther afield for the adventurous visitor: the glacier-carved wilderness of Misty Fjords National Monument, the splendors of the Tongass National Forest, hiking and wildlife encounters with black bears and bald eagles, and more.
Internet & Communications
Free Wi-Fi internet access is available to guests but can be spotty. Due to limited carrier coverage in this region and occasional weather, wireless and cellular signal strength may vary. Verizon is much better than AT&T.
There are places out on the water where you get better reception than at the lodge. The lodge does have a land line available for credit card and collect calls.
Community Service
Pricing
OUR 2023 SEASON RUNS JUNE to AUGUST
Length of Stay
June 1-15 &
June 15-July 7 &
July 7-Aug 7
Aug 24-Sep 9
Aug 7-24
3 Days / 2 Nights
$4,010
$4,360
$4,710
4 Days / 3 Nights
$5,760
$6,285
$6,810
5 Days / 4 Nights
$7,510
$8,210
$8,910
*Pricing is based on dates selected. Standard Alaska fishing trip pricing is per person, double occupancy; Kids Rate 15% off for kids and teens under 18 accompanied by an adult.
Trip Insurance & Cancellation Info
"Trip insurance is highly recommended to protect your investment on this trip. We will assist you with trip insurance upon booking. See links at the bottom of this page for the two providers we suggest for our clients.
Antlers & Anglers Worldwide, LLC confirmation and refund policy:
If your trip is more than 90 days out from date of departure, a 50% non-refundable deposit confirms your reservation and must be received within 10 days of booking to confirm your dates. All trips must be paid in full at least 90 days prior to the departure date. If your trip date is within 90 days, FULL payment for the trip is required. All payments to Antlers & Anglers Worldwide, LLC are non-refundable. Should you need to reschedule or cancel your trip, we will do everything in our power to assist you in finding a suitable substitute or transferring your dates per the lodge/providers/government requirements. Trip insurance protects your investment!"