Overview of Namibia Luxury Hunting Safari - Hunters Namibia Safaris
Hunters Namibia Safaris is a highly acclaimed Namibia luxury hunting safari company founded in 1984.  Hunters Namibia has an international reputation as Namibia's premier safari company.
A highlight of every safari is that the protein from your hunt is critical to the 260+ vulnerable children at the local school nearby.  You will have the privilege of delivering the meat to the school!
Presidents of Safari Club International, Dallas Safari Club and Shikar Safari Club have chosen this outfitter as their safari destination. Craig Boddington, the famous American Hunting writer, has hunted here on three occasions and makes numerous references to these safaris in his articles and books.
This is the ideal hunting destination for first time African hunters, experienced well-traveled hunters as well as non-hunting observers and family groups. Once you have experienced the genuine warmth of this family, uniquely Namibian hospitality, as well as the excellent hunting, you are sure to want to return to this African paradise.  The vast majority of clients are returning clients.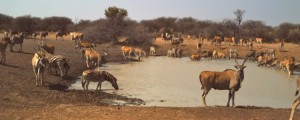 A message from the owner of Hunters Namibia Safaris.  Please click on video Link:      
The hunting area is privately owned by the family and covers an area of over 50, 000 acres (approximately 80 square miles) of pristine wilderness area populated only by free ranging game.  An adjoining property adds another 40 square miles to the hunting area.  24 species of huntable game as well as an impressive variety of game birds (depending on the season) are available for trophy hunters and wing shooting enthusiasts.  Many additional species can be viewed and photographed.
The family's dedication to the wildlife, environment, local communities and their country is evident in every aspect of their operation. The family is actively involved in the Namibian Professional Hunting Association- NAPHA, and is personally involved with the Namibian government at every level. The family are twelfth-generation Africans, who are passionate about their country and continent.
Trophy quality is consistently outstanding due to the decision to go for exclusivity rather than to commercialize. Records show that 92% of trophies taken over the past 27 years qualify for the top half of the SCI Record Book. On average, hunting clients take one trophy per day, but no limit is placed on the number of species that you may take during a specific safari period. Short safaris are, however, not recommended as much of the pleasure of hunting, as well as appreciation of the environment, is lost during a high pressure safari.
When we design your African safari you can expect the following:  We will listen as you share your vision of what your African Safari Experience should look like.  We then begin designing your safari with lodge and destination selection, activities selection, flights, meet & greet services, travel insurance, clothing & equipment list, countdown to Africa (this assist you with detail preparation leading up to trip time), detailed pricing with all included/not included items, and more.
As a full service African Safari specialists, we have visited over 80+ safari lodges in Africa over the last 30 years.  We selected only a handful of those for you that have met our strenuous criteria.  Combination big game hunting, bird hunting, photo safari, Cape Town and Victoria Falls safaris are our specialty.
Testimonial:
""80 square miles of unfenced wilderness, hundreds of animals and only one hunting party, it doesn't get any better.
I have hunted for 40 years on 4 continents and Hunters Namibia is by far my favorite experience.
My favorite place for hunting free range animal using spot and stalk techniques.
Marina and the staff at Hunters Namibia make sure even the smallest details are taken care for from the time they pick you up at the airport until you leave.
Johnny, our PH, is a master of using terrain and vegetation as cover to get you into the shooting position you are comfortable.
The ranch, our accommodations, the food, the staff and the hunting are all first rate.'"
Dan Allford, Houston TX
Hunting
Lodging
Length of Stay / Itinerary
Travel Details & Location
Other Activities
Internet & Communications
Community Service
Pricing
Trip Insurance & Cancellation Info