Overview of Botswana Hunting Safari
This outstanding Botswana hunting safari lodge has been family owned and operated since 1992.  They offer rifle and bow hunting for plains game, photographic game drives, San cultural experiences, horse-back riding and other activities for hunters and non-hunting guests. Enjoy the a privately owned game conservancy of 120,000 hectares which is about 250,000 acres in the Kalahari Desert area of Botswana. All safaris are specifically tailored to suit each guests needs.
This family owned Botswana hunting Safari Company has a close relationship with the local San Bushmen community, a passion for the conservation of wildlife and ethical sustainable hunting.  Their season runs from the beginning of March to the end of October each year.
Packages start at $6450 for 8 Nights/7 Days inclusive of Gemsbuck, Kudu, Blue Wildebeest, Impala, Eland and Jackal!
They pride themselves on offering clients excellent service and building strong friendships with all their guests. Ensuring that all our guests are happy and making your trip with us as memorable as possible is of the at most importance to us. The camp is located in the Kalahari about 280km south west of Maun which is considered the gateway to the Okavango Delta. The closest town is Ghanzi which is about 42km.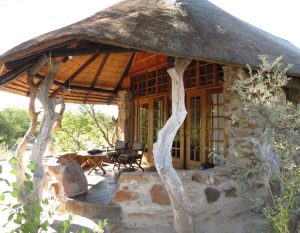 The value for the price of this Botswana hunting safari is rare in the industry!  The best part is that for the value, you are not giving up amazing experiences.  Your staff, meals and experience here will measure up to any in the hunting safari industry.  As with all of the lodges we work with around the globe, we have personally experienced this lodge, the hunting and the staff.  We were impressed and their reputation in the industry is unparalleled.
When we design your African safari you can expect the following:  We will listen as you share your vision of what your African Safari Experience should look like.  We then begin designing your safari with lodge and destination selection, activities selection, flights, meet & greet services, travel insurance, clothing & equipment list, countdown to Africa (this assist you with detail preparation leading up to trip time), detailed pricing with all included/not included items, and more.
As a full service African Safari specialists, we have visited over 90+ safari lodges in Africa over the last 30 years.  We selected only a handful of those for you that have met our strenuous criteria.  Combination big game hunting, bird hunting, Tiger fishing, photo safari, Cape Town and Victoria Falls safaris are our specialty.
Fishing
Hunting
Lodging
Length of Stay / Itinerary
Travel Details & Location
Other Activities
Internet & Communications
Community Service
Pricing
Trip Insurance & Cancellation Info