Overview of Montana Elk Hunt - Bozeman
For a Montana elk hunt, this owner operated outfitter offers all the benefits of a horseback elk and mule deer hunt without the need to ride horses for long hours to get to your spike campsite!  They have a large and growing population of elk in this area that average in the 300-340 B&C range.  Their mule deer average around 150 – 160 gross B&C and accompanies any Montana elk hunting experience.  This is primarily an elk hunt with some opportunity for mule deer. Mule deer success increases later in November during the rut. This is a very rustic trip but rifle hunters can stay in a nice lodge at no additional cost if they are willing to sacrifice some opportunity for the comforts.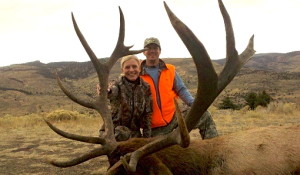 Rifle hunts (5 days) are both 2×1 guided. For an additional fee you can have a 1×1 hunt. They are hunting a combination of private ground they own, private ground they lease, and public ground to which they have exclusive access. The total area they hunt on is over 20 square miles.
They use jeeps and trucks to get around the ranch and have two argos with snow tracks in case they have to get somewhere tough. While good physical condition always helps on a high elevation mountain hunt like this one, many hunters take elk without walking much at all. They can accommodate all levels of mobility.
Hunting
Lodging
Length of Stay / Itinerary
Travel Details & Location
Internet & Communications
Pricing
Trip Insurance & Cancellation Info