Overview of Alaska Adventure Vacation - Sitka
If you want variety and the experience of a remote Alaska adventure vacation at its best, this is the lodge for you! Enjoy the veteran staff, pulling up crab pots, kayaking, hiking, whale watching, fishing and lots of fresh seafood. This remote lodge is nestled in Warm Springs Bay on the east side of Baranof Island, 20 air miles east of Sitka.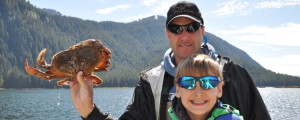 A short, spectacular float plane ride from Juneau delivers you directly to the floating lodge side dock. Five and a half day adventures are available.
Simply put, this is one of our all time favorite lodges.  We love the people, the lodge, the experience, the food, the adventure and we cannot wait to return.  Our family loves this place!
AGE APPROPRIATE: 6 yrs and older.
Fishing
Lodging
Length of Stay / Itinerary
Travel Details & Location
Other Activities
Internet & Communications
Pricing
Trip Insurance & Cancellation Info