Overview of Georgia Mule Drawn Quail Hunt
For those who seek a traditional Vintage Georgia Mule Drawn Quail Hunt, this is Georgia's premiere experience. South Georgia's Plantation lifestyle is driven by Tradition and Timeless Southern Style. Mule drawn wagons and horseback riding are the transportation choice.  In the deep south, there is no better tradition than a Quail hunt horseback experience.
Quail hunting traditions are lived and breathed every day.  You and your guests experience grand plantation living unequaled in southern hospitality with genteel decor, beautifully appointed lodges, pristine grounds and South Georgia's finest authentic quail hunting.
There is nothing more exhilarating and challenging for shotgun wingshooters than to see a covey of 15 to 20 bob white quail flush all at once.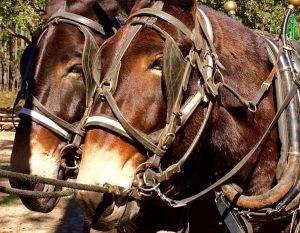 We want you to be challenged by mother nature… when 20 birds get up at once… and your stomach jumps up into your throat… and your adrenaline is pumping… and then you try to pick out the right bird for the first shot… in hopes of getting a chance to get to a second shot… and bag the double off the covey rise.
Experience Georgia quail hunting as it has been done on most of the private plantations for over 150 years. If quail hunting is anything, it is driven by tradition. And for those who believe in traditions, there is only one way to hunt quail… from horseback and mule-drawn wagon. Quail hunting from horseback is as deeply embedded in the southern plantation psyche as grits and cornbread, and the mule-drawn wagon is an iconic symbol of the grand plantation quail hunting social experience.
Located in deep in the heart of south Georgia quail country, we provide our guests with an authentic experience that does justice to the history and tradition. We manage over 6000 acres of longleaf pine forest with wiregrass understory… the original quail habitat as it was more than 200 years ago. These forests are some of the finest habitat in all of south Georgia and they are native home to hard-flying wild quail that have to be hunted and are not merely shot.
Fishing
Hunting
Lodging
Length of Stay / Itinerary
Travel Details & Location
Internet & Communications
Pricing
Trip Insurance & Cancellation Info