Overview of Spain Ibex Hunt and Chamois etc
Spain Ibex hunting is the pinnacle of hunters dreams.  This owner operated luxury hunting company established in 1975 is the oldest single owner and finest outfitting company in Spain. Years of hard work, dedication, and numerous satisfied hunters are their best endorsement. A Spain Ibex hunt as well as chamois and other species should be counted among your lifetime hunts.
This warm and inviting family and their family of guides will treat you to an experience your entire group will remember for the rest of their lives. You are sure to fall in love with the culture and the amazing hunting Spain has to offer. When you meet the owners, you will immediately know that you are in excellent hands and with people that you will want to hunt with for years to come.
The list of animals to hunt is numerous from Ibex to Mouflon Sheep, Chamois, Red Deer, Roe Deer, Fallow, Sheep, goat and wild boar. Amazing driven Red Legged Partridge hunting during the fall months is sure to add fantastic lifetime memories.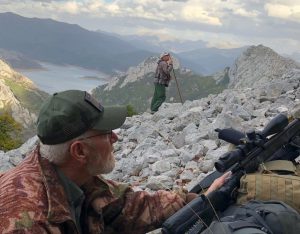 Hunts are conducted from the 17th century luxury lodge and/or from quaint hotels in the areas of the hunts.  Ibex and Chamois are located in the mountains.   There are excellent road systems in place and game managers on sight constantly locating game.  If you have any physical limitations, they will eagerly cater to your needs by getting you as close as possible and choosing the best month for you to hunt.
The owners of this lodge will never brag on their client list but we know from our experiences that kings, presidents, and high profile clients are counted among their repeat guests.
For an adrenaline filled hunt try your hand at a driven boar hunt or driven partridge hunts!
Hunting
Game animals:
Ibex – Season Sept through June
Gredos Ibex – The Gredos Ibex is located two hours west from Madrid. The area they hunt in is one of the best game managed areas in the country. Here you will find abundant game in a spectacular Atlantic foliage setting. Trek through ancient trails in search of the lira shaped horn ibex.
Beceite Ibex – Three hours northeast from Madrid you will be able to hunt some of the most spectacular Beceite Ibex trophies in the country. Glass for the big one and enjoy the stalk of your life on the vast plains and Mediterranean forest of the Beceite area.
Southeastern Ibex – Four hours south of Madrid and from the historical city of Granada you will be hunting the southeastern Ibex. Just below the snowed peaks of Sierra Nevada and though the Alpujarra mountains that go all the way to the Mediterranean Sea you will be able to hunt ibex in an incomparable scenario.
Ronda Ibex – The smallest, but not the less important of the Spanish Ibex. Very close to the historical city of Ronda who gives its name to this specie, you can hunt the challenging Ronda Ibex. Look for him sunbathing in the rock masses and be ready to put your aim to test.
Pyrenean Chamois – Located north east of Spain in the border with France. They leave on the Pyrenean mountain range. It is a very challenging animal and his rut is in October and November.
Cantabrian Chamois – Located North West of Spain. It is the smallest of the chamois subspecies in the world, which leave's on the Cantabrian mountain range. It is a very challenging animal and his rut is in October and November.
Spanish Red Deer – As with most deer you will have to try your luck on early mornings and late evenings. Listen to them roar, locate the big old bull and sneak upon him before the sun sets on you. This is a hunt you will remember forever.
European Fallow Deer – September through February.  As challenging as it bigger cousin the Red Deer, the fallow deer provides an excellent opportunity for the deer enthusiasts to enjoy hunting this specie in the unique surrounding the Spanish Oak and Jara brush provides.
European Roe Deer – September through February.  Bring your best binoculars and be ready to use them, Roe deer will put your perseverance to test. Look for them feeding on the border of the open fields and try your best to make that shot happen, second chances are very rare when hunting roe deer… The king of the spring hunts will stick in you memory.
European Mouflon Sheep – September through June. If you want the big ram you will have to look carefully, stalk after the big group at take your time to pick the big old guy. Every inch counts in the full curl you want to bring back home.
European Wolf – Bring on your warmest clothes and gather all the patience you've got, the astute wolf will make you use it up. You really never know when he will show up, but once he is there and you see him there is no way you will forget the look in his eyes.
European Barbary Sheep – September through December. The only introduced specie in Spain. If you want to put yourself to test and hunt in the semi-desertic rocky environment this sheep lives on you will regret no taking this chance.
Balearean Goat – September through July.  If you have never been to the Balearian Islands this is your perfect excuse. Bring your light gear and be ready to be amazed by hunting the impressive "Boc" while you admire the beautiful views of the Mediterranean sea.
European Wild Boar – Year around!  Located all over Spain. It is a nocturnal animal hunted mainly in our traditional "Monteria" or stalking with the moon.
Birds:
Partridges – Red Legged Partridge hunts – Sept – February
It is has been a long time tradition in Spain. The Red Legged Partridge is a fast flying bird that follows the contour of the terrain.

They normally organize groups of 8 shooters for a program of three days shooting and four nights. The average bird bag for the three days is 1500 birds between the whole line. They normally do four different drives every day.

Each shooter has a loader and a "secretario" which carry all the guns and shells around the field. Two guns of the same gauge are very recommendable as the birds normally come in flocks. It is once in a life time experience for any avid bird shooter. The accommodation during the shoot is at the owners' 14th century luxury lodge only a 15 minutes drive from the hunting fields.
A common question is how do Red Legged Partridge fly? At this lodge they are described as medium high extremely fast flying birds! As they hear the shots of a shotgun, they tend to dart and dive and change directions! Partridge shoots in Spain are unlike English pheasant hunting where the pheasant will tend to fly higher at the sound of the blast and are considerably slower birds.
Archery hunting:
They also provide the possibility of hunting all of the Spanish trophies with a bow and arrow. Over the years we have had a significant amount of archery hunters enjoying all spanish game has to offer. Don´t hesitate, pack your gear and get ready to experience a unique hunting experience in the mountains of Spain. Archers like Tom Miranda, Tom Hoffman or Victor Zenny have already hunted with them. Come and build up your own memories.
Driven big game wild boar and big game hunts:
One of the most traditional ways to hunt in Spain. Get ready to experience the thrill of hunting driven big game. Make no noise and listen carefully for the sound of the desired trophy running towards you. Aim quickly and and reload even faster. This type of hunting will really make you want to come back. Enjoy a day of comradery with your fellow hunters and listen to the sounds of the bush as the dog packs make the the whole forest come alive.
Lodging
Lodge Options:
Main Ranch Estate:
The 16th century estate that you will call home is located two hours south of Madrid in the Spanish province of Ciudad Real and 15 minutes away from the city with the same name. This traditional Spanish "finca" has been in the family for more than three centuries. You will feel at home, every tiny detail has been taken care of for you to enjoy your stay. From this luxurious lodge you'll be able to hunt their 4,000 acre preserve for red deer, fallow deer, wild boar, muflon sheep and of course the fast flying Spanish Red Legged partridge.
14 Luxurious bedrooms for the discerning guest.
Your meals will be exceptional traditional Spanish style with excellent service. All will enjoy a hearty home cooked breakfast. For the bird shoot, you will have a snack in the field, lunch at the lovely ranch house on the hunting property, and all will join together for a lovely dinner at the main estate. A wonderful selection of wines will accompany your afternoon and evening meals.
Other big game locations:
Each of the different species of game you can hunt in Spain is situated at a different mountain range. It is precisely that that makes them different and unique. At each hunting destination you´ll be provided with the best lodging possibilities within the hunting area. Some of the places you might be staying include the Alambra Palace Hotel, The Ciria Hotel or The Remanso de Gredos just to mention a few. Get ready to enjoy Spanish hospitality in some of the more lovely locations Spain has to offer.
Length of Stay / Itinerary
Length of stay will Depend on the number of animals you want you hunt.  Big Game Hunts: 3 days per game animal
Travel Details & Location
Typically, guests fly into Madrid and then they are collected by their guide to begin the adventure!
Other Activities
Spain is not just one of the best hunting destinations in Europe; it is one of the top tourism countries in the world. Its variety of historical sites, its cultural heritage, its gastronomy and its people will make you understand why Spain is the chosen holiday destination for so many tourists worldwide. Bring over the family and come and see it for yourself. We guaranty that you will come back.
Tour Madrid
Quaint towns near each hunting destination
Mountain hikes
Horseback Riding
A delightful guide may be arranged for your touring if you wish and is included in the observer rate for bird shoots.
Internet & Communications
Wifi is available as well as cell phone reception.
Pricing
2023 Pricing – Please call for pricing.
Big game hunts begin at $8,000
Trip Insurance & Cancellation Info
"Trip insurance is highly recommended to protect your investment on this trip. We will assist you with trip insurance upon booking. See links at the bottom of this page for the two providers we suggest for our clients.
Antlers & Anglers Worldwide, LLC confirmation and refund policy:
If your trip is more than 90 days out from date of departure, a 50% non-refundable deposit confirms your reservation and must be received within 10 days of booking to confirm your dates. All trips must be paid in full at least 90 days prior to the departure date. If your trip date is within 90 days, FULL payment for the trip is required. All payments to Antlers & Anglers Worldwide, LLC are non-refundable. Should you need to reschedule or cancel your trip, we will do everything in our power to assist you in finding a suitable substitute or transferring your dates per the lodge/providers/government requirements. Trip insurance protects your investment!"