Overview of South Africa Kruger Photo Safari
Are you looking for a perfect add-on for your hunting safari or a stand alone luxury South Africa Kruger photo safari?  The famed Kruger Park is bordered on the Western side by a number of private reserves.  A few years ago, the fences between the Kruger Park and these private reserves was removed allowing game to move freely between the National Park and the private reserves.  The major differences between viewing animals in the Kruger Park and on the private reserves is that on the private reserves, you will be viewing the animals from professionally guided open safari vehicles that are allowed to take their vehicles off road.  On the private reserves, you will not see regular cars while out on safari!
A trip to the Kruger private reserves is well worth adding a few days to your trip to South Africa or the southern part of Africa.  This area is easily accessible from Johannesburg by plane.  We will arrange a light aircraft flight directly to your safari lodge.
The luxury lodges that our clients enjoy offer arguably the finest game viewing in Southern Africa as they maintain exclusive rights to thousands of acres of prime photo safari property.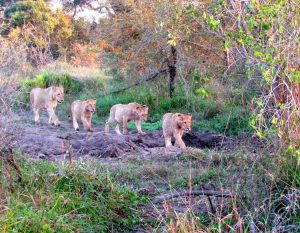 When we design your African safari you can expect the following:  We will listen as you share your vision of what your African Safari Experience should look like.  We then begin designing your safari with lodge and destination selection, activities selection, flights, meet & greet services, travel insurance, clothing & equipment list, countdown to Africa (this assist you with detail preparation leading up to trip time), detailed pricing with all included/not included items, and more.
As a full service African Safari specialists, we have visited over 90+ safari lodges in Africa over the last 30 years.  We selected only a handful of those for you that have met our strenuous criteria.  Combination big game hunting, bird hunting, photo safari, Cape Town and Victoria Falls safaris are our specialty.
Lodging
Length of Stay / Itinerary
Travel Details & Location
Other Activities
Internet & Communications
Pricing
Trip Insurance & Cancellation Info