Overview of Argentina Mixed Bag Wingshooting - Buenos Aires
Less than three hours from the Buenos Aires (The Paris of South America) sits Argentina mixed bag wingshooting sure to satisfy the most discerning wingshooter!
What makes this special among the Argentina mixed bag wingshooting lodges?  LOCATION, LOCATION, LOCATION…First, it's location a little more than two hours from Buenos Aires (The Paris of South America) in the Entre Rios Province. It is this part of Argentina where all the species of birds legally allowed to hunt are all available in great quantities.
Second, the The personalized attention to our clients, the thoroughness in the preparation of each itinerary, the high quality of our accommodations and services, the wildlife management and conservation policies that end up in excellent trophies quality, the professionalism of our staff, the unbeatable location of our hunting grounds and the unforgettable memories that we deliver in each journey put this company at the top of the best Argentinean hunting and fishing choices.
Finally, the flexible schedule that you rarely find among mixed bag lodges!  You choose your hunting based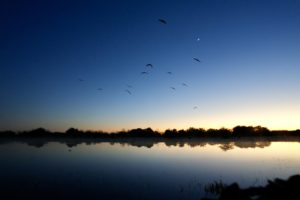 on your interests.
There are very few places in this world that have the diversity of game birds like Argentina does. There is not a month that goes by where we don't have multiple species in season.
The characteristics of this region provide the perfect environment for large quantities of ducks and perdiz. It is situated close to the Uruguay River where agriculture is booming in the highlands and is also close to sizeable areas of thick bush so the dove population is just incredible. It makes this unique hunting destination second to none since it is almost impossible to combine its proximity from Buenos Aires with such a amazing wing shooting!
The other amazing fact about Argentina is the sheer volume of game birds that are available to shoot. For instance if you come to Dove Hunt you can expect to shoot over 1000 rounds per day per person. The limit on Ducks is 25 per day per hunter, if you can imagine.
What is Mixed Bag Shooting
As the title implies it is giving hunters the opportunity to shoot different species of birds. We offer the opportunity to hunt multiple species of birds on a daily basis.  One of the many things we love about this lodge is that they are flexible on the species hunted each day and take your preferences into account as each day is planned.
Fishing
The Argentinean North East area is one of the main fishing destinations for Golden Dorado Fishing in Argentina. The Uruguay River is one of the most traditional fishing spots for fresh water fishing where the Golden Dorado is one of the highlights as well as other interesting species.
Golden Dorado, native of South America, are stunningly beautiful fish with a brilliant golden hue with bright golden-orange tails and fins. They are also called "the tiger of the river" and many people say that there isn´t any other fishing species so aggressive and wrestler. The Golden Dorado attacks lures or flies with ferocious strikes and once you hook one of them, they do multi-acrobatic jumps. They will test your drag with their runs as it is one of the Golden Dorados self-defense mechanisms. Playing a Goldon Dorado provides great excitement as the fight usually lasts for an extended period of time.
Trolling, bait cast, spinning and fly cast are some of our fishing techniques we use to catch Golden Dorado. Since they are so aggressive any of these techniques tend to work well.
Fly fishing for Golden Dorado can be accurately likened to fishing for giant rainbow trout. They will test even the best fisherman's skills and abilities.
They are proud to offer some of the best Golden Dorado Fishing in the world and offer specific travel packages just for this species or you can combine it with either our Big Game or our Bird Hunting.
Once of the most adventures is the Cast and Blast. This is a very popular adventure where we combine wingshooting in the mornings and then fishing for Golden Dorado in the afternoons. Since both the fishing and bird hunting are very close to the lodge we can offer this amazing opportunity to enjoy both world class hunting and world class fishing all in the same day.
Hunting
Wingshooting Options:
The normal hunt schedule is your choice of ducks or perdiz in the morning and dove in the afternoon. For an additional fee you can shoot ducks every morning and your choice of dove or perdiz in the afternoon. A pigeon shoot can be worked into the schedule at your request if the outfitter is confident you will have a quality shoot. Pigeons are typically best in the morning.
Flexibility is one of the many things we love about this outfitter! Your trip will be customized for your interests.
Ducks: season Late April to mid-August

Extensive area of wetlands, ponds, grasslands and creeks represent the ideal environment for waterfowl hunting.  They offer a wide variety of ducks' species like yellow billed pintails, rosy billed pochards, white cheek whistlers, shovelers, silver teals, wigeons, speckled teals and many more.
Typically there are 2 hunters per blind set up so you can drive up relatively close avoiding long walks in the dark.  Blinds may be set up in advance or your guide will quickly set it up upon your arrival. Most blinds are set up on the shore around ponds or streams so hunters avoid standing in the water on cold winter mornings. Occasionally they will set up hunters in the water sitting on chairs if that's the best option for your hunt. Your guide will stay with you to call the birds and to assist you during the hunt. They do not have retrievers.
At the end of the morning hunt your guide will collect the birds. Expect to shoot around 4-5 boxes on normal days.  The limit is 50 ducks per hunt for 2 hunters.
Each hunt is customized for your group's desires.  Excellent hunting equipment for clients is specially imported from the US and includes portable blinds, all kind of decoys, Robo ducks, special stools, rubber boots, waders and so on.  Driving time to the hunt ranges from 5 to 40 minutes.
Perdiz: season May-August
Perdiz are similar in size to quail and are usually singles or pairs, not coveys. Hunters are transported to the hunting fields, usually very close to the lodge, where 2 hunters and their bird boy will walk behind trained sweeping bird dogs (English pointers, German Short hairs, Brittany's, etc) in search of Perdiz. Limits can vary from 10-15 birds per person as set by the government.  Morning and afternoon shoots are equally productive.
Pigeon: season year round; prime is Feb-April
This area provides prime habitat for pigeons which are plentiful but spread out most of the year. The exception is between February and April, "prime time", when the crops are ripe and the birds concentrate on these smaller agricultural areas. Cattle feed lots are another great option during other months because pigeons get used to eating at those places when natural food sources can´t be found in the bush and crops become scarce. The bird boys set up decoys and moving carousels which are very effective. Morning shoots are generally the best.
Pigeon shoots can be inconsistent especially during non-prime months. The lodge will do some early scouting prior to your arrival to find a good shoot location. If they are not happy with the volume of pigeon they will let you know so you can choose another hunt. They don't want you to have a poor shoot!
Dove: season is year around
Argentina is known worldwide because of its excellent dove shooting.  The increase of cultivated land in this area led to a boom in the population of these birds conveniently located outside Buenos Aires.
Hunters will be able to shoot almost an unlimited number of shells (1000 to 2000 rounds is what they expect in a normal day) since this huge natural resource has never been shot by any other company; therefore it never had any kind of hunting pressure.
In the bird combo packages these hunts are usually performed in the afternoon following a fun morning duck or perdiz hunt. Dove only hunters can expect excellent hunts but not quite at the level of lodges in Cordoba. Driving time to the fields ranges from 10 to 35 minutes.
Lodging
Accommodations:
This renovated lodge is located in the famous Entre Rios province strategically located close to the best duck, perdiz, pigeon and dove shooting in the area. The lodge was originally built in 1840 by a very distinguished family and today has been completely remodeled with a comfortable living room, nice dining room and 10 bedrooms each with 2 twin beds and modern private bath.
There are 4 bedrooms in one wing and 6 bedrooms in the other wing so smaller groups can have a little privacy.  Private lunches and dinners can be arranged for a small group as well.
Massages can be arranged for your tired shoulders each evening at you request.
Meals:
The meals at each are plentiful and delicious.  Breakfast usually includes natural fresh fruit juices, coffee, tea, bacon and eggs, cereals, yogurt, cake, toasts with butter and marmalade.
Lunch and dinner usually offer a starter like traditional empanadas, salads, brochettes, different pies, vithel tonne or soups if the cold weather demands them. Main courses could be famous Argentinean beef in a variety of ways, wild boar, axis deer, dove and duck breasts and more. Clients enjoy sides such as baked potatoes, rice, steamed vegetables, salads, mashed potatoes and pumpkin among other options. Pasta, chicken and fish can be arranged if guests prefer them. Dessert includes ice cream, homemade flan, cakes, pies and natural fruit as well as coffee or tea of different flavors.
Length of Stay / Itinerary
Sample 5 Day/ 4 Night Hunting Schedule:
Day 1: Flights normally arrive at Buenos Aires Int´l airport in the early morning. The lodge staff will assist you at the airport and then transport the group via a van directly to the fields for an afternoon dove or perdiz hunt based on your request. Early arrivals will have time for a full hot lunch upon arrival at the fields before the hunt. Late arrivals could get a sack lunch to eat on the drive to the field to allow you to start your hunt upon arrival.
After the hunt you will return to the lodge for snacks and drinks either on the deck or the living room. Dinner will follow.
Day 2: Wake up early for duck hunting. A light breakfast or a complete one is served at the request of the hunters. After your morning duck hunt you will return to a brunch or lunch depending on your breakfast. You will be able to enjoy a little down time around the lodge before heading out for the afternoon hunt.
Day 3-4: Similar to day 2 unless you request a change.  Just let your host know what you would like to do.
Day 5: The group will go hunting in the morning and after lunch drive back to Buenos Aires Int´l airport for your evening flight back home.
Travel Details & Location
You will fly in and out of Buenos Aires and the lodge will transfer you by road 2 hours to/from B.A.
The lodge is located in the Entre Rios province.
Other Activities
Activity possibilities from the lodge:
City tours in towns nearby
Visit museums and national parks
Fishing trips
Sailing in the Uruguay River
Horseback riding
Basic spa treatments like massage, manicure, pedicure, and facials
Wine tasting at the lodge
Enjoy a great book in front of the fireplace and walking the ranch
We can also arrange your sightseeing and hotels in Buenos Aires or other travels such as Iguazu Falls and Patagonia.
Internet & Communications
The lodge has Wi-Fi and cell service
Pricing
2024 Wingshooting Pricing:  Call for updated pricing
$1050 per night – Mixed Bag (AM ducks / PM doves or Perdiz)
$950 per night – Mixed Bag (AM ducks or Perdiz  / PM doves)
$750 per night – Dove/ Pigeon
$650 per night – Dove only
Trip Insurance & Cancellation Info
"Trip insurance is highly recommended to protect your investment on this trip. We will assist you with trip insurance upon booking. See links at the bottom of this page for the two providers we suggest for our clients.
Antlers & Anglers Worldwide, LLC confirmation and refund policy:
If your trip is more than 90 days out from date of departure, a 50% non-refundable deposit confirms your reservation and must be received within 10 days of booking to confirm your dates. All trips must be paid in full at least 90 days prior to the departure date. If your trip date is within 90 days, FULL payment for the trip is required. All payments to Antlers & Anglers Worldwide, LLC are non-refundable. Should you need to reschedule or cancel your trip, we will do everything in our power to assist you in finding a suitable substitute or transferring your dates per the lodge/providers/government requirements. Trip insurance protects your investment!"