Overview of Nebraska Waterfowl Hunting
Situated in the heart of the Central Flyway, this outstanding lodge is quickly becoming recognized as one of the country's most predictable waterfowl destinations.  Nebraska waterfowl hunting that you will be talking about for years to come!
Occupying three miles of Platte river bottom and over 5,000 acres of owned land, they invite you to enjoy some of the best waterfowl shooting you'll ever experience.  With both river frontage and flooded fields they are assured of having open water throughout the season, regardless of the weather.  Why?  Fast running waters in the river and warm springs feeding the river allow for exceptional hunting throughout the season.  In addition large numbers of Canada geese use this as area as staging grounds before heading further south.  Enjoy your passion from the comfort of our heated blinds. In the afternoons you can enjoy some of the best pheasant and chukar hunting found in the Midwest.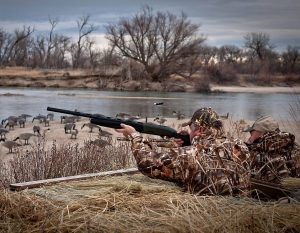 In addition to Nebraska waterfowl hunting and upland hunting, this is also recognized for trophy whitetail. As a guest, not only will you enjoy an incredible all-inclusive hunting experience, you'll also find the lodge provides the utmost in comfort.
Groups of 8 will enjoy this lodge privately making for a fantastic corporate outing.
This place is duck paradise! Birds are here all winter because the river never freezes, guaranteed quality food supply by the neighboring feedlots and minimal local hunting…this place is awesome!!
The habitat surrounding the river bottom is the ideal situation for waterfowl traveling down the Central flyway.  With the combination of agricultural land bordering the river system and its tributaries, the fluctuations of water levels all most always assure the ducks and geese will have access to current food sources.  In addition the lodge is located adjacent to large cattle feeding operations which are a natural attraction for passing waterfowl which is why late season hunting is still strong.
Call early because the secret it out and this lodge is enjoying a large number of repeat clients from year to year.
Hunting
Lodging
Length of Stay / Itinerary
Travel Details & Location
Internet & Communications
Pricing
Trip Insurance & Cancellation Info