Overview of Argentina Luxury Dove Hunting
LUXURY, LUXURY, LUXURY!  This Argentina luxury dove hunting lodge sets the standard against which all other Argentina lodges are measured.  For the observers in the group, you will enjoy horseback riding, polo matches and lessons, wine tours, spa and more.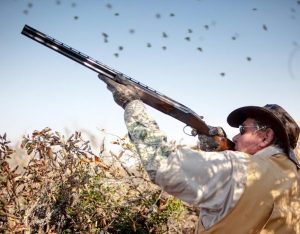 Owned and operated by brothers who have spent the last 17 years developing a reputation for spectacular accommodations and impeccable customer service to create the finest dove shooting experiences in Argentina. They own many of their dove areas thus they can control the hunting pressure to ensure plenty of birds for your group!
This Argentina luxury dove hunting outfitter owns or controls over 20,000 acres of the best land in the heart of the prime roosting areas of Argentina. Typically the roosting grounds are heavily wooded areas with native trees called Piquillin, usually crossed by natural streams, producing an ideal habitat for the reproduction of doves. Vast and fertile valleys that furnish immense quantities of grain surround these refuges.
Hunting is 15 – 60 minutes away depending on the needed management of dove areas in various seasons.  Your transfers will be in the comforts of one of their new 15 passenger vans with air conditioning, refreshments and two-way radios.
From August to February dove hunting is in the hills.  From March to July you will be shooting over crops planted with sorgum, millet and sunflower to keep the dove in the area.
In addition, they plant crops exclusively for doves on their land and use no till methods, which provide consistent and unlimited amounts of food. By practicing good game management techniques, we are the only outfitters in the area that offer excellent shooting throughout the entire year.
Cordoba Province is nestled in the heart of Argentina, the mild climate, extensive agriculture, and perfect roosting conditions produce an ever-increasing population of doves, creating the best dove shooting in the world.
Hunting
The eared dove is the most prominent game bird in the area.
A recent Argentine Game and Natural Resources study estimates the dove population in the area to be upwards of 20 million birds. The eared dove is similar in size and appearance to the North American mourning dove. A typical shooting day starts after a sumptuous breakfast, with departure to the fields by 8 AM.
The shooting fields at the lodge are carefully rotated and rested to assure maximum bird numbers. The driving distance to the fields ranges between 15 and 60 minutes in one of our new 15 seat passenger vans with air conditioning, refreshments and two-way radios.
From August to February dove hunting is in the hills.  From March to July you will be shooting over crops planted with sorgum, millet and sunflower to keep the dove in the area.
As with any bird hunting, hunting areas may vary as they work to manage the birds to give you the best hunting opportunities.
Clients shoot with their own experienced professional bird boy, who will provides shells, acts as a loader, retrieves downed birds and keeps cool drinks at the ready.
Shooting continues until noon, when the group gathers in a shady grove of trees for a traditional Argentine asado (barbeque) complimented with salads, gourmet desserts and fantastic wines.
After lunch and an optional siesta, the shoot continues until approximately 6 PM.
Upon returning to the lodge, relax with drinks and hearty hors d'oeuvres while dinner is prepared. Or sooth your muscles and unwind with a professional massage from our staff therapist.
After a gourmet dinner, choose from among the selection of Cuban cigars and after dinner drinks.
Beginning wing shooters will have countless opportunities to improve their skill level due to the excellent conditions of the shooting fields.
Experienced guns can take great satisfaction in picking more challenging high targets. You can expect to shoot between 2 to 4 cases of shells in a normal day.
Lodging
Luxurious accommodations, outstanding service, and of course the promise of world-class shooting.
Is 18,000 square feet of pure luxury with ten expertly appointed rooms that allow group sizes to be small and intimate with singles or doubles if they wish to grow as large as twenty hunters.
The living areas  were specially conceived for your absolute comfort and relaxation. After a long day on the fields, we know how much you treasure a cozy homelike environment to kick back and settle down.
Couches are extra soft, there is excellent reading material available and always a smiling face standing by to bring you a cold drink or whatever your heart desires. The Living Room is everything you imagined from a 5 star.
The Lodge features a spa with an infinity swimming pool, two spacious heated Jacuzzi's (inside and outside).
All meals are special occasions. This is why we built and decorated our dining room to make you feel like royalty. Besides the great Dove Shooting, one of the reasons for coming down to Argentina is to enjoy the outstanding meats and wines. We want the quality of the surroundings to be of the caliber of what's on your plate.
The Lodge staff has been trained to cater to your every need. Here everybody knows your name and how important you are. Our reputation is founded on customer satisfaction and having you back is as important as having you here.
Argentina is very well known for there very fine wines. The Mendoza region produces what is arguably the best Malbec in the planet. The Wine Cellar at Guayascate was designed to harbor an extensive selection of reds and whites to match and exceed your highest expectations.
This is a special spot where you can enjoy a glass of our finest spirits while dining on a wide variety of hors d'oeuvres prepared by our culinary experts.
Length of Stay / Itinerary
All itineraries are customized for you.  A typical dove hunt is as follows:
Day 1:  Arrive in Cordoba and hunt on arrival day depending on flight arrival times.
Day 2,3:  Hunt dove/pigeon
Day 4: Hunt dove in the morning depending on flights and then begin travel home.
We offer touring in Buenos Aires and around Argentina.  Wine tours in Mendoza and exceptional touring in Patagonia may be added to any itinerary.
For those that love wine and excellent cuisine, we offer sommelier/culinary touring guides with fully customized itineraries.  Access to the finest private wine cellars in Argentina.
We are a full service boutique company.
Travel Details & Location
Your destination is Cordoba, Argentina.  There are direct flights from Miami to Cordoba where the lodge will greet you and transfer by road to the lodge.
Other flight options include travel through Buenos Aires and onwards to Cordoba.  Many people choose to enjoy a night or two in B.A where we can organize touring and hotels.
Other Activities
Nannies are available on request for children
Guests may opt to see polo match,
horseback riding,
pool and sauna,
trekking,
play golf at nearby Ascochinga Golf Club (18 holes, 40 minute drive);
enjoy a day visiting the area's historical sites, including the 450-year-old Jesuit mission;
enjoy a little pampering in the large hot tub along with a professional message therapist;
or take advantage of the Argentine shops and do some serious shopping for silver, leather and fine handmade goods.
We offer a full array of luxury add on trips to this destination including wine tours in Mendoza, touring in Buenos Aires, and Patagonia.  The services of a sommelier/culinary guide are also available.
Internet & Communications
Cell service is spotty.  Complimentary Wi-Fi is available.
Pricing
2024 Rates: Call for updated pricing
$850 per day per shooter double occupancy shooters
$950 per day single room
Trip Insurance & Cancellation Info
"Trip insurance is highly recommended to protect your investment on this trip. We will assist you with trip insurance upon booking. See links at the bottom of this page for the two providers we suggest for our clients.
Antlers & Anglers Worldwide, LLC confirmation and refund policy:
If your trip is more than 90 days out from date of departure, a 50% non-refundable deposit confirms your reservation and must be received within 10 days of booking to confirm your dates. All trips must be paid in full at least 90 days prior to the departure date. If your trip date is within 90 days, FULL payment for the trip is required. All payments to Antlers & Anglers Worldwide, LLC are non-refundable. Should you need to reschedule or cancel your trip, we will do everything in our power to assist you in finding a suitable substitute or transferring your dates per the lodge/providers/government requirements. Trip insurance protects your investment!"