Overview of Montana Wild Bird Hunt
Montana is the sportsman's dream state! They have great wild bird hunting for Hungarian Partridge, Grouse and Pheasant as well. Combine fishing and wild birds in September or later for a fantastic cast and blast combination.
Exceptional personal service for small groups of hunters and fishermen/women is the standard set by lodge managers John and Rebecca. You will not find a formal resort here; instead, you will find a second home in Montana where your every need is met by a seasoned, friendly and professional staff. You will also find some of the world's best fly fishing and bird hunting opportunities. Bighorn fishing will remind you why you love to fish.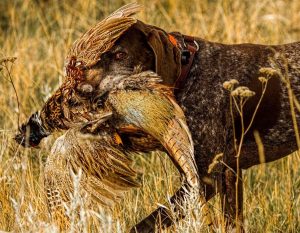 John and Rebecca enjoy a high return of past clients which means that you will want to call long before your desired fishing trip.  For the hunter that loves a challenging bird hunt, you will want to be in excellent walking shape as these birds are truly wild birds.  The cast and blast here is filled with excellent opportunities for those that are up to the challenge of strenuous hiking for the birds.
Fishing
Hunting
Lodging
Length of Stay / Itinerary
Travel Details & Location
Other Activities
Internet & Communications
Pricing
Trip Insurance & Cancellation Info