Overview of Kentucky Whitetail Hunt
In 1986 their first 186 trophy whitetail deer was killed on one of the family farms.  Since then this Kentucky whitetail hunt outfitter has been selectively hunting their farms for trophy whitetails.  They are now partnering with others, like you,  who share the passion of deer hunting on a new level by opening their hunting experience up to those who want to join them on a hunt.
Located in Northeastern Kentucky and are offering opportunities to hunt along the Ohio River and remote big woods in prime trophy whitetail habitat.  This outfitting operation was formed to provide the highest quality hunting experience.  The location is in one of the most productive areas of Kentucky for trophy deer.  They are in an area where there are virtually no other whitetail outfitting operations available.  The word is out on what they have known for some time. Kentucky is the go to state for the opportunity to harvest a trophy whitetail. Kentucky ranks very high on the number of trophies taken each year.  This outfitter improves that ratio by putting you in areas that are known to produce trophy whitetails.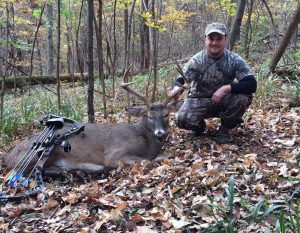 In order to have a high quality deer herd you need four main ingredients.  Genetics, age structure, remote habitat, and food. They certainly have the genetics as Lewis County, Kentucky, is one of the red states in the Boone and Crockett club.  Deer are able to age because there is remote habitat.  They have food from natural mast crops, large white oak stands with acorns to farms overlooking fertile Ohio River bottoms with grain crops.  These ingredients are the foundations for creating trophy whitetails.
Their goal is to create the best opportunity for you to harvest a trophy whitetail, offer a very memorable experience and to create long term friendships with those who choose to hunt with them. They thought long and hard before they even decided to move forward and open up to others the joy of the type of hunting they have in Kentucky.  However, having reached a point in life where creating the opportunity and sharing the experience is more exciting than the harvest, our outfitter was formed.  We have the lodging, land and the resources necessary to create a high quality, fair chase hunting experience.  They are offering a very limited number of hunts each year.
Hunting
Lodging
Length of Stay / Itinerary
Travel Details & Location
Internet & Communications
Pricing
Trip Insurance & Cancellation Info