Overview of Bahamas Bonefishing Lodge - Abaco Island
What can we say…this Bahamas bonefishing lodge gives you a luxury fishing trip or simply a private luxury resort trip!  If a portion of your group is not interested in fishing, they will be well cared for with numerous activities as well as just basking in luxury and delicious meals.  Your Bahamas bonefishing lodge experience will spoil you forever.
This is a boutique luxury plantation house and fishing lodge in an idyllic wilderness location. Its guests enjoy the best of Bahamas bonefishing, brilliant birding and a wide range other activities in one of the Bahamas' hidden beauty spots.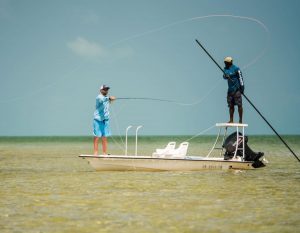 Its top quality accommodation and food and its beautiful, unspoiled location attract nature lovers from all over the world and others in search of the perfect tropical hideaway.
Many guests come to fly fish for bonefish – bonefishing in the Bahamas is well known as the best in the world and on Abaco it is exceptionally good. But others are drawn by the wildlife, private beaches and the unspoilt beauty of the location. The excellent birding is now also attracting greater recognition. To be able to enjoy these pursuits from a beautiful base overlooking a deserted sandy beach on Abaco's stunning Atlantic coastline is a rare treat.
The lodge is close to the world-class bonefishing flats of the Abaco Marls, where large numbers of uneducated bonefish provide fantastic sport for fly-fishermen in uncrowded waters. There are also superb white-sand wading flats at Cherokee Sound, where larger and more seasoned bone fish and occasional permit present a special challenge, and at Cross Harbour. With the right conditions, there can also be great fishing off the Club's beach.
For birding, Abaco offers a wide range of avian habitats – an extensive coastline that attracts many migrants, then miles of mangrove wetlands, ancient pine forests and dense hardwood coppice. Over 280 species of birds have been recorded on the island. The lodge has published a large photo-book in the birds of Abaco.
There are many options for non-fishers and non-birders, both active and inactive. Diving over spectacular coral reefs; golf at Treasure Cay; guided snorkelling; big game fishing and miles of beachcombing along Abaco's amazing sandy coastline.
For the less active, boat trips to the charming outer islands, with their picture-postcard colonial villages; massage and beauty treatments; shopping for local crafts in Marsh Harbour; or guided trips on sea or land to explore the amazing wild life and scenery of the Abacos.
Or guests can just completely chill out in the pool garden, on the beach or on one of the Club's large verandahs, perhaps with a cool glass of Meursault, enjoying one of the world's most pleasant climates and most beautiful seascapes.
Note that the lodge is not a hotel in any conventional sense. Its atmosphere and the way in which it is run are more akin to a private country house party, elegant yet informal – and very relaxed.
This elegant beachfront retreat is half an hour south of Marsh Harbour, which has an international airport with many direct flights to and from the US and Nassau each day.
Most guests come for a week, but shorter stays are possible. There is a very high level of repeat visits.
Fishing
Lodging
Length of Stay / Itinerary
Travel Details & Location
Other Activities
Internet & Communications
Pricing
Trip Insurance & Cancellation Info