Overview of Alaska Kenai Adventure
National Geographic rates this lodge as one of the top 100 Alaska adventure vacation lodges in the world!  Everyone in your group or family will find wonderful adventures that suit their taste at this lodge. Numerous adventure and fishing packages make this a fantastic destination.
Sitting on 25 acres of the original homestead site, this Alaska Kenai adventure riverside lodge is at the very core of all they do. Overlooking the confluence of the Kenai and Moose rivers and an amazing view of the snowcapped Chugach Range, this lodge features a quarter mile of what is unquestionably the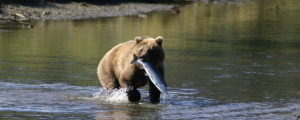 finest shore fishing on the Kenai River.
Adventure activities abound!  Enjoy an overnight at their famous bear camp where you live in the midst of brown bear habitat viewing their daily activities, hike various mountain trails, view glaciers, watch whales, kayak and more.
A visit to bear camp is a must for every adventure trip to this lodge!
When we visited this amazingly diverse lodge, we were impressed with the variety of activities.  Each day was a new an unique new adventure for us.  The whale breaching that you see in the photo above was just off the bow of our boat!  We spent the night at the lovely bear camp where we saw cubs playing in the streams, big brown bears walking through the water on the coast line.  What an amazing sight to see, only to be followed by killer whales and glaciers in the same afternoon.  We hiked to beautiful glaciers, caught big King Salmon, fished from the banks of the lodge and at the end of our adventure, we chose a float plane back to Anchorage where we explored the city.  Our time at this lodge was a perfect combination of fishing and activities and it makes for a fantastic family adventure.
Lodging
Length of Stay / Itinerary
Travel Details & Location
Other Activities
Internet & Communications
Pricing
Trip Insurance & Cancellation Info