South Africa Hunting Safari – NW
This South Africa hunting safari is a family owned and operated game reserve comprising 46,000 acres of prime Savannah and is home to numerous trophy plainsgame animals as well as Cape Buffalo Hunting.
Over three and a half decades ago this family welcomed their first visitors to their 46 000 acre piece of Kalahari Eden. Now it's Yolande, Adolph and Abraham's turn to personally invite you to experience one of the last great tracts of hunting land for your customized South Africa hunting safari. A place they call home, and where they offer you and your family an unforgettable safari experience.
This vast stretch of land in the North West Province of South Africa lies close to the Botswana border, fringed by the Kalahari Desert into the West, Gauteng province to the East, and the Free State to the South. This semi-arid desert terrain consists mostly of low-lying savannah scrubland, dotted by towering Camel Thorn Acacia trees.
Bring your family and enjoy five star luxury accommodations that set this lodge a part from the all rest of Africa's hunting lodges.  Glass chalets surrounding a prolific watering hole will be your home for your safari.  Fantastic traditional thatched lodging is also available.  View the photos of this amazing safari lodge in the photos section.  The service, PH's and meals are equal to the level of the lodging.
Here you can enjoy peace of mind as the hunting area is completely Malaria free.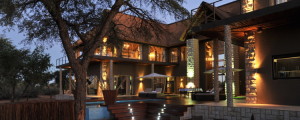 A perfect South Africa luxury hunting safari to combine with Cape Town and the garden route touring or a few days at a stunning photo safari lodge on the private lands adjoining Kruger Park.  We will customize a personalized luxury safari for your group.
South Africa is a fantastic destination for first time hunters.  Professional hunters that have been specially trained to not only keep you safe during your safari but also to talk you through the hunt in a calm manner.  Children really benefit from the experience of the professional hunter in the field as they enjoy quick and repeated success.
VIP hosting and video services available for this exceptional experience.
When we design your African safari you can expect the following:  We will listen as you share your vision of what your African Safari Experience should look like.  We then begin designing your safari with lodge and destination selection, activities selection, flights, meet & greet services, travel insurance, clothing & equipment list, countdown to Africa (this assist you with detail preparation leading up to trip time), detailed pricing with all included/not included items, and more.
As a full service African Safari specialists, we have visited over 80+ safari lodges in Africa over the last 30 years.  We selected only a handful of those for you that have met our strenuous criteria.  Combination big game hunting, bird hunting, photo safari, Cape Town and Victoria Falls safaris are our specialty.
As with all of our African properties, private aircraft are available for transfers if you prefer.