Overview of New Mexico Big Game Hunting Lodge
New Mexico Big Game Hunting Lodge
Located in the spectacular Chama Valley of northern New Mexico big game hunting lodge sits on a 17,000 acre ranch.  The ranch is located on the Elk Highway in the southern San Juan Mountains. The San Juan Mountains are considered by many to be the most untamed and wildlife rich of all mountain ranges in the lower 48 states. One side of this ranch borders the Sargent Elk & Wildlife Preserve while the other side is the Continental Divide.  Each year during November the entire Southern Colorado – San Juan elk herd makes its legendary annual migration from Colorado to New Mexico through this ranch. You have to see it to believe it!
We at Antlers and Anglers Worldwide get very excited when we find high opportunity hunts! If you are looking for a hunt where you have a great chance to harvest an elk or mule deer then this is a great location.  If you are familiar with the Texas Hill country, this would be the equivalent in New Mexico.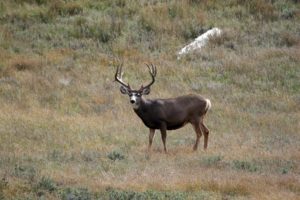 The lodge offers elk, mule deer & bison hunts on 17,000 acres of spectacular hunting bliss, including a 2,000 preserve which has a privately managed elk herd. Elk and bison may be hunted in the Game Park.  The free range hunts for elk and mule deer cover the remaining 15,000 acres. The lowest elevation on this beautiful, rugged ranch is 8,000 feet so be prepared.
After your hunt, enjoy a fun outing of prairie dog hunting, horseback riding or fishing!
Add to all of the above, guests stay in a very nice rustic lodge with 11 bedrooms.
Hunting
Lodging
Length of Stay / Itinerary
Travel Details & Location
Other Activities
Internet & Communications
Pricing