Overview of Namibia Dangerous Game Safari - Caprivi Strip
If you long for one of the last amazing free range Namibia dangerous game safari properties in the southern portion of Africa, look no more.  As we entered this property on our recent check out trip, our jaws dropped as we passed numerous trophy Kudu, Sable, herds of hundreds of Cape Buffalo, mature trophy elephants, Hippos, Roan and massive Crocodile.
The Bwabwata National Park West runs along the Okavango River with borders on Angola and Botswana.  This hunting area encompasses a staggering 700,000 plus acres of prime hunting land.
This land is home to some of the best elephant, buffalo and plains game populations left in Africa, with a very small hunting quota, ensuring exceptional trophy quality rarely seen.
Your veteran professional hunters have been hunting since 2010 and the Caprivi area for nearly two decades.  They have experience in virtually every area of the Caprivi Strip.  This is the property that they choose to hunt because of the quality and quantity of game as well as the distance from local people.  They have the exclusive rights to this area until 2020.
Since this outfitter has been hunting this property since 2010, they have developed amazing sand road access around the property allowing for spotting of tracks and access to areas for those that may not be able to walk for many miles in a day.  During your hunt, the entire team will be assisting in the locating process.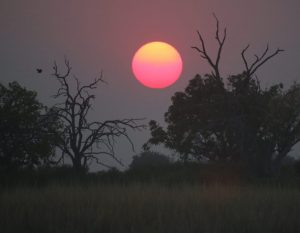 Your home for this hunt will be in a well appointed tented camp located along the river set high above.  Each tent has ensuite bathrooms with hot showers and flush toilets.  Night sounds of hippo's calling, elephants crashing the trees and wake to the morning lions roaring.
Look at the testimonials for some samples of what hunters have experienced with this outfitter.
As with all of our African properties, private aircraft are available for transfers if you prefer.
Fishing
Take a break from your hunting day and enjoy some Tiger fishing on the Okavango River.
Hunting
In the Caprivi area in North Eastern Namibia, lies one of the most exciting and exclusive big game hunting areas. Bordering the upper Okavango Delta in Botswana and the Luyana Game Park in Angola lies the Bwabwata Game Park.
The Buffalo Hunting Concession Stretches from the Eastern banks of the Okavango river 60 miles to the east. It has a size of 280000 ha (700 000 acres). The hunting area provides for the most spectacular wildlife viewing and big game hunting opportunities.
Elephant, Cape Buffalo, Leopard, Hippo and Crocodile as well as some plains game species can be hunted in this huge open area in a way true to the hunting tradition of fair chase.
Our highly experienced professional hunters will guide you on your African hunting expedition and ensure the best quality trophy available on this part of the continent.
All hunting will be traditional spot and stalk hunting.
Your professional hunter plays a major role in your African Adventure. His extensive hunting experience will ensure that you will obtain the best trophies in an ethical way and make your safari the experience of a lifetime.
Professional Hunter:  It is well known that you choose a dangerous game hunt  based on two criteria, the land and the professional hunter!  It is well proven that the hunting land is amazing and now top that off with one of the most storied and experienced professional hunters in the industry.  Koos was born in 1952, grew up on a farm and has started hunting at the age of five (5). Tracking and hunting became his lifestyle and passion. Later on he became one of the most competent and respected trackers in the country and is widely acknowledged as a fundi on tracking – really one of the best you can find, you might even say he is legendary.
He took up professional hunting in 1987. He has built up the numbers of game on his land from zero to hundreds in different species.He was awarded honorary conservationist by the Ministry of Environment and Tourism in 1995 already.With his excellent knowledge of ecology, the ecosystem and animal behaviour, he can explain the ways of the wild in a simple and understandable way to anybody.
He hunted the Big Game concessions in northern Namibia since 1994. With his patient nature he can guide old and young, newcomers as well as experienced hunters for the experience of a lifetime.
Lodging
The tented hunting camp is located on the banks of the Okavango river, breathtaking sunsets are guaranteed. With an abundance of bird and wildlife, as well as diverse vegetation you can be assured of a true African hunting experience.
Your home for this hunt will be in a well appointed tented camp located along the river set high above.  Each of the three tents has ensuite bathrooms with hot showers and flush toilets.  Night sounds of hippo's calling, elephants crashing the trees and wake to the morning lions roaring.
A common area with comfortable chairs and dining area overlooks the river with a deck.  The well stocked bar and fire pit area provide the evenings entertainment as you share the stories of the day.
Length of Stay / Itinerary
5,7,14,21 day itineraries are available depending on the trophies sought.
Travel Details & Location
From Windhoek, you will fly commercially into Rundu airport where you will be greeted by the lodge representative and transfer about an hour and a half to the hunting camp. Charter flights are available on request.
Family Expeditions will assist you in coordinating your flights whether you book them yourself or use our Africa flight specialist.
Other Activities
Activities besides hunting include:
photo safari on the property
Tiger fishing
Spa treatments
Dinner out at a luxury property across the river
Internet & Communications
Phone Service:  There is limited cell service in the area
Internet Service:
The camp has slow WiFi but it does goes out occasionally and they don't always have a quick fix! Patience can be a virtue!   IF YOU MUST BE IN CONTACT THEN WE SUGGEST TAKING A SAT PHONE!
Community Service
More than just a hunt!  You will find as the onion is peeled that this outfitter genuinely loves their country and the people.  Hundreds of hours and thousands of dollars are donated each year to the improvement of the land, education, people and so much more.  It is from the heart that Koos, Christine, James and the rest of the family give back to their communities.
Here are just a few examples below of their amazing generosity throughout Namibia but particularly in the poorest of the Caprivi communities.
Donate to train 40 local people to become drivers and obtaining licenses.  This enables the beneficiaries to secure great jobs and care for their families
Donate to train 8 local people to become fork lift drivers so that they can provide for their families
400 school uniforms donated
4×4 pick up truck donated to the community which helps them to be able to pick up supplies and transfer people to receive training.
Donating a mini bus for transportation
Put new roof on office for the community and updated with computers and paint etc.
Aiding in bringing fresh water to central areas without access to water
Training center donations to help people to get jobs
Securing donations from outside sources to assist in training teachers
Donation of animals harvested.  Every bit of the animal is eaten by locals.  Nothing goes to waste!
WOW!
Pricing
Call for rates…this will be one of the most expensive hunts and highly sought after hunts in the southern portion of Africa and for good reason.  The trophy quality is among the finest available and the professional hunters are extremely experienced. Quotas are low ensuring amazing trophies and low hunting pressure.
The old adage stands true here!  You get what you pay for.  This is the finest hunting property we have ever encountered for dangerous game animals as well as Kudu, Sable and Roan.
Trip Insurance & Cancellation Info
"Trip insurance is highly recommended to protect your investment on this trip. We will assist you with trip insurance upon booking. See links at the bottom of this page for the two providers we suggest for our clients.
Antlers & Anglers Worldwide, LLC confirmation and refund policy:
If your trip is more than 90 days out from date of departure, a 50% non-refundable deposit confirms your reservation and must be received within 10 days of booking to confirm your dates. All trips must be paid in full at least 90 days prior to the departure date. If your trip date is within 90 days, FULL payment for the trip is required. All payments to Antlers & Anglers Worldwide, LLC are non-refundable. Should you need to reschedule or cancel your trip, we will do everything in our power to assist you in finding a suitable substitute or transferring your dates per the lodge/providers/government requirements. Trip insurance protects your investment!"