Overview of Namibia Hunting Safari
Your Namibia hunting safari begins with your professional hunter greeting you as you arrive in Windhoek, Namibia.  A little over two hours from the airport waits 50,000 acres of private hunting land in one block.  Home to over 30 species including leopard and numerous plains game animals.  The lodge has been recently remodeled.  Your Namibia hunting safari hosts are well known for their amazing hospitality and exceptional hunting skill.
Hunting is not just about getting the trophy one wants but rather an overall experience – from the second the booking is made to the day your trophies arrive at your home and everything in between, and we truly want to ensure that you receive the best possible service.  This is a memorable hunting safari sure to please the most discerning hunter whether a veteran hunter or a first time safari traveler.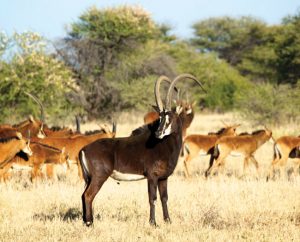 Enjoy exceptional hunting grounds with plentiful amounts of game and great trophy expectations.  At the same time experience very comfortable accommodations, energetic, personable and excited professional hunters, as well as a large fleet of late model vehicles.
Every safari is unique and personalized according to the your specific needs and requirements. No request is impossible and we are proud of their long list of return clientele that bares testimony to their success.
We are passionate about our wildlife and our industry; therefore we want to share these experiences with you. If you are a species collector, big game hunter or taking the family on a hunting holiday, we can guarantee you the opportunity to hunt what you are after whilst having the adventure of a lifetime. Once you have visited Africa's wilderness, you will find it difficult to resist going back.
Antlers & Anglers Worldwide has personally visited over 90 safari lodges and only a few have passed our stringent criteria.  During our visit to this safari operation, we found the professional hunters to be passionate and anxious to provide the best possible experience for their hunters.  One thing is for sure, you will laugh a lot and hear many exciting stories around the fire pit.  Their passion is contagious and their love of having a great time will ensure that you will long to return.  For children, the atmosphere is one of adventure and constant new experiences.
Fishing
Hunting
Lodging
Length of Stay / Itinerary
Travel Details & Location
Other Activities
Internet & Communications
Community Service
Pricing
Trip Insurance & Cancellation Info