Overview of Colorado Elk Hunt and Mule Deer Hunt - Meeker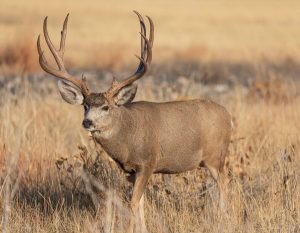 Looking for an extremely HIGH OPPORTUNITY FREE RANGE Colorado elk hunt and mule deer as well as big black bear and mountain lion?  Here it is!  The beautiful 13,800 acre private ranch is nestled in the middle of the nation's largest migratory elk herds. It ranges from 6,500 to 9,000 feet in elevation.
Located only 13 miles south of Meeker Colorado, this beautiful lodge is located right in the heart of Colorado's finest scenery.  Nestled at the base of the valley floor, the lodge is surrounded with large natural meadow grass hay fields, oak, Juniper covered draws and hill sides leading to some of Colorado's finest big game hunting.  With 3 miles of prime, tender green fields the game loves to hang out here in the fall!
While there are an abundance of elk and mule deer this outfitter chooses to only offer 12 elk and 4 mule deer trophies each year to maximize trophy quality and minimize hunting pressure.
Unit 23
This is a family owned and operated business since 2002 committed to excellence.  Antlers & Anglers Worldwide is excited to partner with this high opportunity outfitter who is known for some of the finest hospitality, guides and experiences the West has to offer.
You will want to think a year or even two or more ahead to secure your hunt on this ranch unless there is a late cancellation.  This outfitter offers a limited number of elk and mule deer hunts each year to maximize trophy quality and minimize hunting pressure.  Book early!
Rifle and bow hunters have enjoyed a staggering 100% shot opportunity on elk hunts!  Rifle only for mule deer hunts.  100% success on the mule deer hunts in the past.
If you are looking for a high success mule deer hunt on one of Colorado's most magnificent private ranches, look no further.
HUNTER SAFETY CARD is required if born after January 1, 1949.  Colorado has no exceptions to this rule.
Hunting
Lodging
Length of Stay / Itinerary
Travel Details & Location
Internet & Communications
Pricing
Trip Insurance & Cancellation Info