Overview of British Columbia Wolf Hunt & Big Game
You will find this well established British Columbia outfitter to be a top quality family and selective hunting opportunity for discriminating sportsmen.  Among the many big game animals hunted with this outfitter is the best opportunity for a wolf hunt in the world.
All hunts are conducted under fair chase and 100% legal hunting methods. Owner operator, Mark is a passionate conservationists passing along his passion for preserving hunting to his four boys for the future.  You will find a full slate of BC species including Canadian Moose, Black Bear, Grizzly, Rocky Mountain Goat, Rocky Mountain Elk, Whitetail, Mule Deer and Timber Wolf.  In particular, he has established a 50% opportunity rate wolf hunt that is the envy of the industry.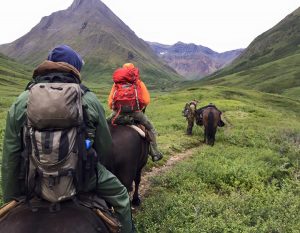 He has recently expanded the operation to cover exclusive hunting areas from the moose flats of Prince George to the Rocky Mountains of the South Kootenays. Within that area he operates out of several base camps with full amenities and remote camps on rivers and lakes.
He has access to over 150 established trails taking you into secret hunting locations and many of them with platform stands strategically placed over moose meadows , swamps and lakes. From these safe, large, platform stands we provide the hunter and guide excellent opportunity to call and glass the area.
These vantage points allow for a steady shot off the shooting rails. He also uses a combination of boats gently drifting down our rivers or off a lake. 4 X 4s are used to cover these large areas. Spot and stalk with calling during the rut is the prime method.
On your hunt, you will enjoy breathtaking scenery and untouched wilderness in exclusive hunting territories in Northern and North Central British Columbia, Canada.
They boast one of the highest densities of Moose and Black Bear populations in British Columbia.
You will enjoy the comforts of fully equipped base camps. Hearty home cooked meals, hot showers and satellite phones are just a few of the conveniences.
Whether hunting single or mixed bag hunts, you will agree that this is a class "A" outfit.
Top 10 Reasons to Hunt with this outfitter:
High success on hunts
Well established outfit
Family run operation
Guaranteed tags for Moose, Bear, Elk, Deer, Wolf and Lynx
Rifle hunts in peak Elk and Moose rut season
Archery hunters welcome
Great camps and food
Friendly knowledgeable guides that work hard
No overcrowding
Your Success is our Success!
Your operator, Mark currently serves as President of the Guide Outfitters Association of BC and sits as past President for the BC Fishing Resorts and Outfitter Assoc.
We are told all the time, that the atmosphere is like none other. The fun in camp. The friendly bantering and competition between guides! The practical jokes! They pride themselves on good ol' fashion Canadian hospitality . Most clients become good friends and stay in touch over the years.
Hunting
Lodging
Length of Stay / Itinerary
Travel Details & Location
Internet & Communications
Pricing
Trip Insurance & Cancellation Info