Overview of Alabama - Luxury Quail Hunting
The ultimate luxury Quail hunting lodge in the south with each guest enjoying unlimited quail harvest.  Otter Creek is the dream achieved and vision of native Alabamians, Jane and Frank Brown.  Following the Alabama storms of 2011, this luxury Quail hunting lodge Otter Creek was rebuilt in 2013 making it one of the finest luxury quail hunting lodges in the United States.  Otter Creek was featured in Garden & Gun's 2016 Best of the Sporting South, 25 Trips of a Lifetime for the Traveling Sportsman as well as in Covey Rise magazine.
Location, location, location…along with exceptional dog work and covey rises to please the most discerning shooter, Otter Creek is located just off I-20 between Atlanta and Birmingham with a 6,000 plus runway for private jets only minutes from the property.
The property produces consistent covey rises from rolling fields of native grasses to creek bottoms and open woods. What separates this luxury quail hunting lodge from other operations is it best in class accommodations and world-class service and attention to detail. Its' lakes are filled with trophy bass and are stocked with rainbow trout during the winter and early spring months. Its' convenient location, exceptional hunting and fishing, exquisite accommodations, gourmet cuisine, all in a private setting, make this a perfect destination for a corporate outing or relaxing among friends.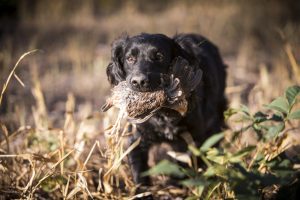 An accomplished field trial trainer who runs precision English Pointers, Setters and English Cockers runs the kennels and guides you in the field. Coveys flushed by talented English Cockers bring a whole new dynamic to the hunting experience. The dog work is an elegant experience and to many is the highlight of the day.
* 20 gauge or smaller break action guns only please.
Between fantastic wingshooting outings and over the top delicious meals some guests enjoy trying their hand at some fly fishing or spin fishing in the productive ponds located around the property. A Robert Trent Jones golf course is only 10 minutes from the property as well.
There are 14 private bedrooms with private baths.  10 Hunters may enjoy this property and lodge privately!
Fishing
Hunting
Lodging
Length of Stay / Itinerary
Travel Details & Location
Other Activities
Internet & Communications
Community Service
Pricing
Trip Insurance & Cancellation Info