Saskatchewan Whitetail Hunt
A Saskatchewan whitetail hunt in Canada should be counted among your lifetime hunts. Canada is known for its huge free range whitetail deer, and you will have access to over 250 square miles of whitetail country.  The owners of this  family owned and operated lodge believe in low pressure hunting.  They only host 8-10 hunters per year (changes annually) on this immensely successful hunting property which is unheard of in Canada.  They spend numerous hours scouting their area pre-season to give their hunters the best hopes of success. The expectation for giant northern whitetail is high for those willing to be patient.
The first comment you are going to make after you hear about this hunt is that it is too good to be true.  We couldn't agree more!  The bottom line is that this outfitter is not running a hunting operation for his livelihood but he is inviting you to hunt with him because he absolutely loves what he does!  Dave decides how many hunters he wants to take each season based on the health and numbers in his area.  After he decides how many the area can handle, he cuts that number in half and that is the number of hunters he invited to hunt with him.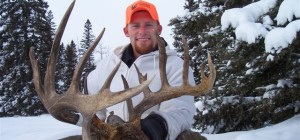 This is one of the very few operations, if not only one, with NO hunting pressure! Owners, Dave & Leslie do this because they love it, not because they have to. That means they only allow a few lucky hunters to hunt here each year. Be one of those lucky ones!  They do not advertise or go to any trade shows.
A mature Canadian buck can weigh well over 300 pounds and normally has dark/ black colored antlers with great mass. These bucks are much larger in body size than southern deer. As you sit in your deer blind, keep in mind that because of their enormous body size a large set of antlers may not appear that big. Ground shrinkage seldom happens up here!
Dave and Leslie run a great small Saskatchewan whitetail hunt lodge which is why we love sending you to hunt with them!  They will treat you like family and they will make every effort to ensure that you have the best opportunity for success.
Late October is the best time for bow hunters as the bucks are more patterned. Bow hunters can choose between ladder stands and pop-ups. The rut is in November. The season is October 1-Nov 30 but normally they stop at Thanksgiving.